Find Loose Slots... Play Online!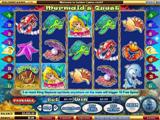 Roxy Palace has some of the loosest slots on the web. Their selection is huge and with less overhead, employee costs and taxes than your typical brick and mortar casino, they can afford to give back a bigger percentages of bets back to the customer. If you're looking for loose slots, play online!
Online Progressive Slots!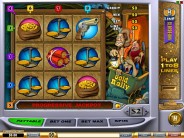 Casino Tropez participates in a wide-area progressive with other Playtech software casinos. They have a wide variety of progressive slots with coin-in from nickels up to $5 slots. Some of the popular titles are Gold Rally, Magic Slots, Safecracker, and Diamond Valley. For great progressive slot action online slots are worth a try!

Strictly Slots
Strictly Slots is a high-quality, excellently written and edited magazine designed for today's slot players. The website for the magazine also has a lot to offer including past articles, previews of the current edition, and a online subscription form. If you enjoy slots, take a look at Strictly Slots.
Readers frequently ask us about the best ways to buck these daunting progressive odds. When is the best time to play? Can you know when a progressive is due to hit? Do the attendants know?
The answer

Frank Legato is recognized nationally as an expert in the history and operations of slot machines. He regularly conducts seminars for both the professional trade and the playing public. Frank shares his 20 years of researching, writing about, and playing the slots in his book How to Win Millions Playing Slot Machines! ... or Lose Trying. to these questions is the same in virtually every situation: There is no best time to play, and a progressive is never "due."
Since every progressive jackpot is the result of an individual choice of an RNG (random number generator) on one machine, no one can know for certain when it will hit. It can hit when a bank of progressives is packed; it can hit when you're the only player on the bank. It can hit when the jackpot reaches unprecedented levels; it can hit an hour after it last hit, when the prize is at its minimum. Your odds of hitting the big one on any spin are the same whether you are the only one in the casino (remember, on a Megabucks-style machine, players in scores of other casinos are pumping in coins, even if your casino is empty) or have to wait in line to play.
Yes, I did say "virtually" every situation. There are a couple of scenarios in which the odds are better than others that a progressive hit is near. The first is in the case of a single-game or single-property progressive slot that has been in place for a reasonably long time. An attendant or other casino employee who has worked constantly in the area of that progressive link may be familiar with the general level at which the jackpot has hit consistently. They may be able to tell you if the jackpot is higher than it's ever been. If the level of win has been fairly consistent over months or years, the odds may be good that it will continue to be so, and it may be a good time to start pumping those quarters in.
The other situation is that familiar jackpot disease, "Megabucks fever." When the statewide Megabucks jackpot rises to unprecedented levels in Nevada, everyone gets into the act. Banks are packed as more and more people vie for the jackpot. In this situation, the law of averages takes over: Millions more aggregate spins mean more individual RNG selections per second. The more chances, the more likely it is that one of them will be the proverbial one-in-50-million. In this case, "the jackpot is due" may become a self-fulfilling prophecy.
However, neither of these situations is by any means a guarantee. A local or statewide progressive may be higher than it's ever been, but that doesn't mean it can't go a lot higher before someone hits it. Records are always being shattered on the big-money progressives, with the new record often several million higher than the old. That's a lot of individual spins without a jackpot—even after people start to think it's "due." The same thing goes for that single bank the attendant has watched for months. It may hit tonight; it may not hit for weeks. It all depends on the RNG god lining up that magic combination for one lucky player on one lucky machine.
If you're going to play progressives, record jackpot levels are obviously the best time to do it. But don't bet the farm that it's going to hit tonight. Use the same common sense in managing your bankroll that you would use on a stand-alone three-reel slot game.
So which progressive games are the best? That depends on what you are looking for in your slot experience. For more on this, check my Tip Of The Month at Strictly Slots.
In the meantime, good luck going for the gold, and I'll see you behind the big check!