32 Vegas Top Spot for Gamblers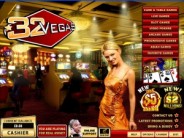 32 Vegas has a huge variety of slot machines, enough to satisfy any slot fanatic. The casino has over 30 video and classic slots to choose from including 7 progressives. You can play as little as a penny per spin all the way up to $5 per line. There are 2,3,5,8, and 9 line slots. Some of the outstanding video slot titles are Gold Rally, Vacation Station and Desert Treasure. Popular classic slots include Fountain of Youth, Bermuda Triangle, and Haunted House. With great variety, fantastic graphics, and innovative themes, 32 Vegas slots are a good thing.
LuckyAce Casino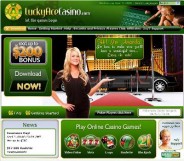 LuckyAce Casino is a new white-label casino that uses 888 software, the same platform that powers one of the oldest and most respected online gambling sites on the web, Casino-on-Net. LuckyAceCasino.com has all the most popular games including: BlackJack, Craps, Video Poker, Roulette, Keno and over two-dozen slot machines with better odds than a Las Vegas casino room. LuckyAce Casino does not accept US players.
(London, UK) – The progressive jackpot at 3D online casino WinADay.com has just gone over $120,000 (€97K). It's only a month since an Italian player hit the WinADay.com jackpot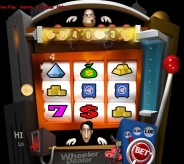 Wheeler Dealer online slot at WinADay for $120K but if the new three-dimensional casino is anything like its sister casino, Slotland.com, that makes it well due for another hit.
WinADay.com's 3D lobby and animated casino staff create a unique online casino experience. Greeted at the door by the animated casino staff, they are ushered into the main casino lobby. Casino service staff like Pete the Pit Boss, Barry the Bartender, Bill the Banker, Amanda the Administrative Assistant and Sam the Security Man help players enjoy the six absolutely unique slots and video poker games waiting for them there.
Last month, an Italian player known as Monica68 won €116,200 ($148,724) while playing Wheeler Dealer, one of the five unique slot machines at the three dimensional casino site. This was the first progressive jackpot win at the new site. It was reset to $30,000 and has been increasing steadily ever since.
Since launching last year, WinADay.com has added three more unique slot machines and now offers six one-of-a-kind games. While WinADay.com game designers let their imaginations go wild on the first four games, the back-to-basics approach to the latest game, Slot-O-Matic, is proving very popular with players.
"We only launched Slot-O-Matic a few weeks ago and already it's one of our most popular games!" said WinADay.com manager Ondrej Tuma. "While some players like more complicated games with multiple pay lines and options we've found that lots of them like to take it easy."
The most recently added game, Slot-O-Matic, is an easy one payline, three-button slot machine while the recently launched Heavenly Reels is a four pay line slot adorned with heavenly cherubs and with angel wings that appeals to strategic slots players since. Gold Boom is a 9-wheel, 6-pay line slot machine that offers free bonus spins and awesome payouts.
WinADay.com games are all instant-play, no-download Flash games. There's nothing for players to download or install – they are in the 3D casino lobby, ready to play, in seconds. All games are original, built using proprietary software only available at WinADay.com and they're all tied to one progressive jackpot pool.

WinADay.com
WinADay.com is an international 3d slot casino operated by Slotland Entertainment S.A. They offer five different 3-dimensional slot games and are currently expanding. All games are flash-based, meaning no casino downloads or software to install.