Find Loose Slots... Play Online!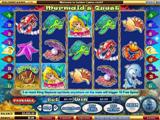 Roxy Palace has some of the loosest slots on the web. Their selection is huge and with less overhead, employee costs and taxes than your typical brick and mortar casino, they can afford to give back a bigger percentages of bets back to the customer. If you're looking for loose slots, play online!

Play'n GO Official site
Visit the Official Site of Play'n GO to get the latest news on new game releases, vendors and online gaming solutions.
Vienna, Austria - Just in time for the holidays, Play'n GO Wraps up and delivers a new, upgraded version of its instant-play gaming software. Casino 1.75 includes three attractive new casino games,


New Games Available at Play'n GO ready to be enjoyed. No assembly required!
Speed Cash
This 3-reel slot game is all about cash and cars. The wild red race car symbol helps you comprise winning combinations. Get three to drive home with the progressive jackpot! Playing Speed Cash is like making a quick, albeit thrilling, run to the ATM.
Bell of Fortune
This classic 3-reel slot game is based on Liberty Bell, the ancestor of all modern slot machines as it was the first in the world to offer automatic cash payouts. Like its predecessor, the new Bell of Fortune slot is destined to become the favourite of millions!
Multi-Hand Video Poker
If you enjoy video poker, but want to up your excitement, play Multi-Hand Video Poker. In each round, you have the chance to win on 10, 25, 50 or 100 different hands with the held cards in common.
Play'n GO's instant-play casino software and bingo software are now available in Spanish as well as English to appeal to a wider audience. "We will continue to broaden our product portfolio with innovative games and new languages. Our games are tailored to suit a variety of different distribution channels for the broadest reach," says Martin Zettergren, Vice President of Products at Play'n GO. "We've had a fantastic year at Play'n GO. As 2008 comes to a close, the entertaining new games should add a bit more joy to the season for our clients and their customers."