LONDON, England -- Christmas has come early for one lucky William Hill punter, who now has more than a million reasons to be cheerful after landing the UK's biggest on-line slot machine win of more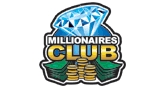 than £1.1 million.
The lucky new Millionaire, a 55yr old electrician from Oxfordshire who wishes to remain anonymous, staked just £3 to play the online slot machine game 'Millionaires Club' on williamhillcasino.com, and he knew he was in for a payout when the 'bonus game' came up - but scooping the jackpot was beyond his wildest dreams. He couldn't believe his eyes as all the reels fell in to place, making him a Millionaire and giving William Hill another big payout, a just a week after another Hills customer, David Redshaw from Slough, scooped £100,000 from just 5p on williamhillbingo.com.
William Hills spokeswoman Jennie Prest said, "It certainly tis the season to be jolly for our 'Mr X', winning such a life-changing amount just before Christmas. It's our second huge payout in the space of two weeks and Mr X goes down in history being our first Millionaire from the online casino. William Hill is full of Christmas Cheer and we are delighted for both our winners."
Mr. X commented: "The whole family is ecstatic and it feels like we are living the dream. This is going to be one amazing Christmas. The money gives us security for the rest of lives, although we will definitely be splashing out on some treats as well - extra special Christmas presents and perhaps a holiday. I've been playing on williamhillcasino.com for a while and although I have picked up a few nice wins, I never really considered the possibility that the jackpot could be mine - but now it is, it is just amazing."
www.williamhillcasino.com's 'Millionaires Club' is an online game, similar to a traditional slot machine except it has a progressive jackpot that grows and grows with each play, until it is won. The jackpot has now been reset and will build until another customer strikes it lucky for another big payout.