Microgaming has announced the launch of four hot new online casino games; Spanish 21 Multihand Blackjack, Supe it up Video Slot, Gold Series Volume 1 Table Games and Bars n Stripes Video Slot, available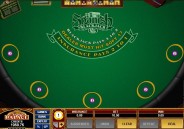 Microgaming's new Multi-hand Spanish 21 to players who visit Microgaming casinos. Here are the details of these new slots and games.
Spanish 21 Multihand Blackjack Blackjack players have eagerly awaited the brand new Spanish 21 Blackjack game which is a faster paced, multi-hand version of the most popular single hand Spanish Blackjack game, giving you the option of betting on up to 5 hands at the table. And if that isn't enough Spanish 21 Multihand Blackjack has a Player Payout Bonus, rewarding you whenever you reach 21 and have not doubled down. This game caters to a wide range of playing styles and bankrolls and is the one to try if you want to test your skills and good fortune on beating the house.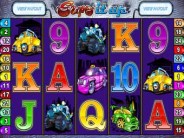 Supe It Up Video Slot
Supe It Up Video Slot This game is as hot as they come! Supe It Up Video Slot is an entertaining 25 Line, multiple coin game loaded with Wild and Scatter opportunities, a Free Spin feature that can deliver 30 freebie spins and a Gamble chance that can double or even quadruple your winnings and add a lot more bling to your ride. Start off in your old jalopy and be prepared for some 'wheel' changes as you pimp your ride to a hip-hop, high revvin' hotrod with crystal clear sound effects, and music to match, giving you an unforgettable drag-race of entertainment and opportunity.
Gold Series Volume 1 Table Games If you're looking for the ultimate experience in online blackjack, Microgaming has the answer with the introduction of Gold Series - Volume 1. In terms of smooth and speedy play, vibrantly executed graphics, digital quality sound effects and music, the high value player aids, and the controls and tools this series takes blackjack on the web to a new level. The outstanding new additions enhance the realism of the game and include improved table perspective, the appearance of articulate icons, and card flips and chip movements that will thrill and impress you more and more with each hand dealt. Seat yourself at the elegant, walnut framed table and try your hand in the best blackjack games on the Internet.
Bars n Stripes Video Slot Bars n Stripes Video Slot is as true blue American as the apple pie, statue of Liberty and Thanksgiving turkey that are featured in its brilliantly colored graphics. This big All American slot has 5 reels with 25 paylines, features Wild and Scatter rewards, and a pick 3 of 5 on-screen bonus feature activated when Uncle Sam's top hat triggers this sensational opportunity to get more bang for your buck. Now is the time to wave your flag high and make your country proud - go and play Bars n Stripes today!
You can play all of these new Microgaming games at Roxy Palace.
Microgaming
MGS House
Circular Road
Douglas IM1 1Bl
Isle of Man
Phone: +44 (0) 1624 647777
Fax: +44 (0) 1624 647778
Email:
sales@microgaming.com
Website: www.microgaming.com
Microgaming released its first online casino software back in 1994. Microgaming powers many of the world's online casino sites and a leading poker network. The company's progressives have paid out over $199 million since inception. Microgaming's poker network has over 40 card rooms and one of the most aggressive tournament schedules on the web.