Roxy Palace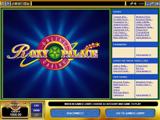 Roxy Palace features plenty of user friendly games with realistic design and crisp, exciting play. The casino has more than 100 slots including 3-reels and 5-reels with multiple paylines, as well as bonus feature slots. There are lots of video poker games. Table games include Blackjack, Roulette, Craps, Baccarat, Let Them Ride, Tri-Card Poker, and Casino Hold 'em.

LOS ANGELES -- Veridigm Inc today announced the Company's subsidiary, Magnus Gaming Technologies, has acquired a license to use the name "Megaz Bucks" for its newly created game which will allow its gaming operating customers to offer the largest progressive jackpot game to ever be offered on the Internet. The announcement was made by V.P. of Corporate Communications, Ms. Alise Mills.
"The 'Megaz Bucks' progressive jackpot software will raise the jackpot bar in the industry creating both gaming operator and player excitement. We are expecting the game to dramatically enhance the amount of play and new players for our customer sites," stated Ms. Mills.
Progressive style jackpot games continue to generate global media and player attention like no other. Unlike the Powerball, MegaMillions, or EuroMillions gaming models that have state-to-state or border-to-border restrictions, the 'online progressive model' that the Company will provide offers few restrictions, no boundaries and is applied to the 'international' online gaming community excluding the USA.
The online gaming industry remains one of the fastest growing e-commerce industries on the Internet. A recent study released by Merrill Lynch has reported that the Internet gaming industry is still in its infancy. Merrill Lynch predicts that by 2015 the market will bring in $528 billion annually worldwide, making it by far the largest ecommerce industry online. The report also stated 2006 earnings to be nearly $15 billion.
A premium level of products and entertainment services will continually be developed and provided by the Magnus Group of companies. Veridigm Inc., whose new official name will change to Magnus Entertainment Group, will operate through three wholly owned subsidiaries: Magnus Marketing Systems, Magnus Gaming Technologies Ltd, and Magnus Showbiz.