LAS VEGAS, NV -- Over the last several years electronic online games have generated over 8 Billion Dollars within the United States. With the passing of the Unlawful Internet Gaming Enforcement Act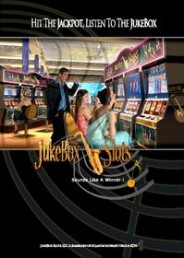 Jukebox Slots hit casino floors.
U.S. players can no longer play online games for live cash from home. Now there is a generation of online players looking for the speed of electronic games, but with no where to go, the solution "Jukebox Slots." Slots, Electronic Table Games & Music in a Slot Machine? Yes it's true; the patent pending Jukebox Slots are slot machines that allow players to listen to music while they play casino games.
Atlantis Internet Group Corporation, parent company of Jukebox Slots, LLC, are pioneers of electronic games online. Jukebox Slots offer the customer the speed of online gaming at a Casino. Players old and young appreciate the speed of the games and the flexibility of playing both Slots and Table games on one machine. It offers a casino owner, a product that cuts cost in marketing, operation, security, manpower. This server-based product controls the Slots on the casino floors or can control play for fun games on a promotional website. Because electronic tables games play faster than traditional table games they can increase what the casino takes from the pot over time, yielding a greater profit.
Jukebox Slots players can listen to their favorite music while playing
Slots
,
Blackjack
,
Poker
,
Craps
,
Roulette
and other popular table games. Jukebox Slots offer real-time player tracking and bonuses, like a traditional Slot, but players get points for playing all casino games, not just slots. Gaming jurisdictions are now approving electronic table games throughout the U.S. market. States with just Slots can add electronic table game variety for their customers. ATIG's server-based gaming system for Jukebox Slots has been tested and approved by Gaming Associates for international gaming markets and ATIG is currently seeking approval for the United States by late 2008. "We call it 'A Casino In A Casino' and no, this will not take the place of dealers, but it offers a new and refreshing product for players and casino owners worldwide," states Donald L. Bailey, CEO of Atlantis Internet Group, Corporation.
The company has already signed a deal that will feature legendary Motown greats in the first version of Jukebox Slots. The company is also a partner in the redevelopment of the historic Moulin Rouge Hotel & Casino in Las Vegas and plans to feature a commemorative version of Jukebox Slots at the new casino. The Moulin Rouge development plan received an unanimous approval by the City of Las Vegas Planning Commission on February 28, 2008. Find out more about Jukebox Slots and other ATIG projects in the 2007 Stockholders' Review: http://www.atlantisinternetgroup.com/investor.htm
About Atlantis Internet Group Corp. (http://www.AtlantisInternetGroup.com)
Utilizing an innovative development team and licensed gaming executives to oversee its state-of-the-art online gaming and slot machine products, Atlantis Internet Group Corp. is bridging the gap between traditional gaming casinos and online gaming. Atlantis Internet Group Inc. is one of the first companies to interface with online games and player tracking systems found on traditional floor slot machines.
Internet users can play-for-fun games including blackjack, roulette, craps, and more at http://www.AtlantisInternetGroup.com. The games utilize industry leading technology. In addition, the web site features links to Atlantis Internet Group clients, corporate information, and descriptions of products the company offers.