When the new year began, online casinos took their best shot at bringing new customers into their sites. Many have since backed off of the special promotions, and resorted back to their normal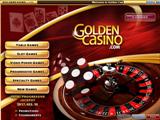 Golden Casino Lobby sign up bonuses.
That is not the case at Golden Casino. They are leading the way into the month of February with a Valentine's Day slots tournament for the ages. The tournament will start the Friday before Valentine's Day and run for seven consecutive days.
"This tournament is one that I am looking forward to. The idea that I can win $35,000 by entering a tournament that only cost $.99 in mind blowing. It certainly will be something to do instead of sitting around feeling sorry for myself," said online player and single mom, Karen J.
The money she was referring to was the $.99 entry fee. Outside of the free tournaments that sites sometimes run, the $.99 fee is one of the smallest buy-ins of all time.
Golden Casino has taken into account the fact that the tournament will be running for a full week. Because they are taking up so much of players' time, they are paying out 125 spots. The top prize, however, will be what most players are shooting for.
The Valentine's day tournament is available to all online US players. Golden Casino is one of the sites that continues to take new US customers.

Golden Casino is an excellent online casino that is available to US players. Offering over 75 slot machines and numerous table games, there is casino action for all tastes.