Need a challenge? Golden Casino's March Mania weekly Tournaments provide you with the opportunity to play your favorite games (Slots, Video Poker, Table Games and more) and prove your skill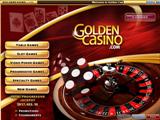 Golden Casino Lobby to the world. Click the Tournament link in the casino lobby to see the games that are currently offered. Select a game then sign-up by clicking the "Register" button. When prompted, enter a nick-name for us to use on the leader board. Come up with a good one because that's the name that will be associated with your account.
March Mania offers a guaranteed $200,00 freeroll and many other great events all month long.
Tournaments are running all the time. You can enter as many Tourneys as you like, so don't forget to check the schedule often. Once the Tournament begins, click the 'Enter' button to be taken straight to the game. Your Tournament funds will be added to your account then you can start playing. After you've made the minimum number of wagers, your position will appear in the ranks listed on the screen. The leader board can be found in the Tournament lobby. Check it out to see your ranking. Prizes can be real credits, bonus credits or a combination of the two. Winnings are awarded automatically following Tournament completion. Places are limited so register early.

Golden Casino is an excellent online casino that is available to US players. Offering over 75 slot machines and numerous table games, there is casino action for all tastes.