by Benjamin Spillman
Las Vegas Gaming Wire
LAS VEGAS, Nevada –- Anxious to get revenue wherever they can find it, Clark County commissioners approved a construction proposal that will make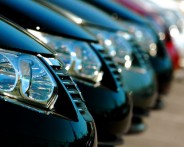 Clark County looking to expand slot machines to Rent-A-Car facilities way for slot machines at an airport rental car facility despite a recommendation to reject all the bids.
Commissioners voted unanimously on Tuesday to approve a $375,553 bid to complete office space at the Rent-a-Car Center at McCarran International Airport even though the bid was 41.6 percent higher than an engineer's estimate of what the job should cost.
The office space is important in terms of generating revenue because it will house an area to supervise slot machines, a requirement under Nevada gambling regulations.
Slot machines are a major revenue-generating concession at the airport, earning about $38.5 million from more than 1,300 slot machines in the last fiscal year. Operating revenue for the entire year at McCarran and four smaller county airports was $376 million.
Officials hope to install 40 slots at the Rent-a-Car Center, although they don't have an estimate of how much money they will generate. With the vote Tuesday, the project could be complete by fall.
A recommendation on the commission agenda suggested rejecting all three bids as an option.
But commissioners decided that seeking new bids would take too much time and opted to move forward with the only bid that met legal qualifications.
"I don't want to lose that slot machine revenue," Commissioner Steve Sisolak said.
Before the vote, Clark County Aviation Director Randall Walker told the board "every week of delay is lost revenue."
Walker added, "It would take us at least a month to get this re-bid and back to the board."
The bid commissioners accepted was from Shaw Lundquist Construction.
Two other bids deemed nonresponsive for failing to conform to bid requirements came in at $356,237 and $285,844, respectively.
One bidder fell from contention after a mistake, discovered after the bid was submitted, that underestimated the cost of doing the project by $157,000.
The other bidder failed to list a subcontractor that had been specified in the request for proposal.
In other airport-related business the commission:
• Decided against a plan to put about 2.3 acres of land at 4700 S. Paradise Road up for sale.
The commissioners were wary of an appraisal saying the land was worth $5.2 million because earlier appraisals, written before the Las Vegas real estate market fell precipitously, valued the property below $3 million.
• Approved a one-year extension of a lobbying and governmental affairs contract with Marcus G. Faust valued at $200,000 annually.