CURACAO - The Beach Life progressive jackpot at Casino Plex has surpassed the €1,060,000 mark. The very popular slot machine has been growing rapidly over the last few weeks and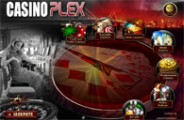 is now waiting to make someone's dreams come true.
Since launching in August 2008, CasinoPlex.com has added a string of new games bringing their total to over 125 casino games, including 19 progressive jackpots and 16 Dollar Ball side games.
The massive Beach Life progressive jackpot is one of several huge progressive jackpots available at Casino Plex just waiting to be won.
Gold Rally, another immensely popular and notorious for record breaking jackpots slot machine, has a massive progressive jackpot currently standing at over €325,000. This game is a favourite among French, Spanish and Italian casino players.
Next in line and growing by every passing minute is the Arcade game, Mega Ball. This eight-games-in-one gives players the chance to either bet on one single game or all eight of the games. The progressive jackpot linked to this game is currently at over €240,000. This game attracts players from all over Europe but Russian and UK players seem to love this game.
Rounding things up is probably the most popular of all casino games, Blackjack. The progressive jackpot associated with Blackjack is growing fast and it currently stands at a huge €170,000. This variation of Blackjack is high in demand with all Danish players.
As a reminder, Casino Plex offers the highest High Roller Bonus in the industry with a colossal €5,000 absolutely free. Players can also choose the Welcome Bonus that will reward them up to €500 free.
Download their easy to use software today at www.casinoplex.com
Casino Plex
Curacao
Netherlands
Website: www.casinoplex.com

Casino Plex is owned by Plex Gaming Ltd. and managed by CEC Management, a highly respected and popular Marketing and Management company in the online gaming industry. Casino Plex's software was developed and is maintained by Playtech, one of the world's largest online gaming software companies with experience from the Brick and Mortar casino world.