ATLANTIC CITY, New Jersey -- Gary Kulawiak of Ellicott City, Maryland is a millionaire thanks to the Atlantic City Hilton and Resorts Atlantic City. The casinos announced that Kulawiak, 62, was the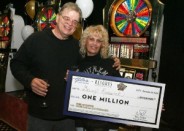 Ellicott City, Maryland Resident Wins $1,000,000 at Atlantic City Hilton's and Resorts Atlantic City's Winner-Takes-All Slot Tournament
winner of the Wheel of Fortune® $1,000,000 Winner-Takes-All Slot Tournament held on Saturday, November 25 at the Atlantic City Hilton Casino Resort.
"Winning a million dollars is an incredible early birthday present for me," said an elated Kulawiak, who will celebrate his 63rd birthday on December 12. "It's a dream come true for me and my wife Lori. We are going to pay off our home and continue to live a good life."
"This tournament was a huge success for us," said Phil Juliano, Regional Senior Vice President of Marketing for the Atlantic City Hilton and Resorts Atlantic City. "This kind of large-scale tournament with a massive prize is the direct result of two successful properties working together. We will continue combining resources to bring more events like this to the public. Gary's life was forever changed here today. And that's fun to see."
The event - the biggest slot tournament in Atlantic City history - featured IGT's Wheel of Fortune® slot machines. It began on October 23, with Destination Casino Club members playing in daily qualifying slot tournaments at both the Hilton and Resorts. The top 500 scores (250 from each property) qualified for the semifinals, held on Friday, November 24 at 4 p.m. The top 20 scores (10 from each property) went on to the finals. The ten finalists from Resorts were transported by limousine to the Hilton for the 11 p.m. final round in the second floor Ballroom.
Excitement had built to a fever pitch and the room erupted when Gary Kulawiak was named the winner of the million-dollar prize, which will be paid as an annuity.
Resorts Atlantic City
Website: www.resortsac.com

Resorts Atlantic City is situated on 11 acres of land with approximately 310 feet of Boardwalk frontage overlooking the Atlantic Ocean. Resorts offers guests 878 hotel rooms and suites in two hotel towers: the beachfront art deco 15-story Ocean Tower, and the magnificent showpiece, the new $125 million, 27-story luxury Rendezvous Tower, in addition to 24-hour casino excitement at more than 70 table games and nearly 3,000 slot machines.