Slots are Loose Online!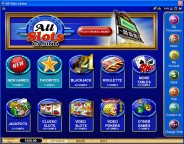 All Slots Casino has one of the largest collection of slots and some of the loosest slots on the web. Their selection is huge and with less overhead, employee costs and taxes than your typical brick and mortar casino, they can afford to give back a bigger percentages of bets back to the customer. Check it out!

Slot Machines: America's Favorite Gaming Device
by Marshall Fey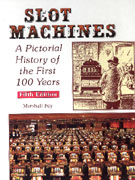 The complete and colorful story of coin-operated chance machines from the time they first became prevalent in the early 1890's up to the slot machines operated in today's casinos. Included in the exciting drama of this major industry are the pioneer, inventors, manufacturers, operators and the numerous raids that plagued the industry. This book has been used as a source book worldwide, including television documentaries.
Read a review of Slot Machines: America's Favorite Gaming Device
Once upon a time the handle on the side of a slot machine actually made the game go. The reels actually decided the outcome of the contest. A player could determine the probability of winning by simply

Basil Nestor is the author of the new Playboy Complete Guide to Casino Gambling. This wonderful book teaches players how to avoid sucker bets and win more when playing gambling games. He is also the author of The Smarter Bet Guide series for video poker, slots, craps, and many other books about gambling. Basil's website is www.smarterbet.com
counting the symbols on the reels and doing some basic multiplication.
It was all very straightforward. Unfortunately, it was also very susceptible to fraud. A player could jiggle the handle and control the spin of the reels. Slot manufacturers temporarily solved this problem by separating the handle from the spin mechanism, but thieves simply learned to open the machines and set the reels manually. Other methods of cheating involved drilling holes into a machine to fool it into thinking coins had been deposited, wedging objects into the chute under the coin hopper, or spraying chemicals into the coin slot.
And as the twentieth century progressed, another problem developed. Players wanted big jackpots, but big jackpots required longer odds (fewer possibilities of winning the top prize) and that meant more reel stops. Bigger reels needed bigger machines, and that created even more opportunities for cheating. Physical reels were becoming a major liability. Something had to change.
The fundamental shift occurred on May 15, 1984 when Inge Telnaes (a Norwegian scientist working for Bally) received U.S. Patent 4,448,419 for an "Electronic Gaming Device Utilizing a
Random Number Generator
for Selecting the Reel Stop Positions." It was a simple yet stunning leap; put the game on a computer chip. Reel size was no longer an issue. Cheaters setting reels was no longer a problem. Mega-jackpots were possible, and the modern era of slot games had arrived.