Smarter Bet Guide to Slots and Video Poker
by Basil Nestor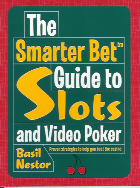 A pocket-sized book that provides a clear-cut explanation of payback comparisons, progressive jackpots and how to evaluate them, video poker strategy tables, and other mathematically derived techniques to lower the casino advantage.
Increase Your Deuces Wild Odds!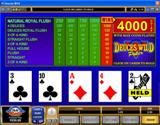 The Deuces Wild video poker game at All Slots Casino has a 96.77% return with five coins in. You can play in denominations from $.05 to $5.00 and the machine gives you hints on what to hold for obvious hands, but you'll still need your strategy cards or your rules memorized to get the biggest payback. The graphics and design are well-done.
Q You said in a previous column that the pay table on a video poker game determines the payback of that game. I thought an RNG (random number generator) controls how a game pays. Is this a contradiction,

Basil Nestor is the author of the new Playboy Complete Guide to Casino Gambling. This wonderful book teaches players how to avoid sucker bets and win more when playing gambling games. He is also the author of The Smarter Bet Guide series for video poker, slots, craps, and many other books about gambling. Basil's website is www.smarterbet.com
or am I misunderstanding something?
A An RNG (
random number generator
) plays the game, but it doesn't handle payments. In fact, an RNG has no awareness of the payouts or the payback.
For example, in a video poker machine, the RNG randomly selects five cards and five replacements from a 52-card virtual deck. This happens continuously about one thousand times per second. The RNG's job essentially ends there. When you press the deal button, the ten cards that happen to be selected at that moment are saved and delivered to the display in sequential order, first five cards and then up to five more (depending on how you draw).
This shuffle-and-selection operation does not vary when the game changes. In other words, all the standard video poker versions (
Jacks or Better
,
Double Bonus
,
Deuces Wild
, and so forth) get their cards in exactly the same way. The payouts are the only variables, and they necessarily involve the
pay table
.
So a final hand of Ac As 4h 3d 6c will earn you one credit at Jacks-or-Better, and it earns nothing when playing Deuces Wild. But the probability of drawing that hand is exactly the same in both circumstances. Thus the game's long-term payback is affected only by the pay table, and not by any variance in the RNG's selection of cards.