Lessons from the Pro Poker Tour
by David Apostolico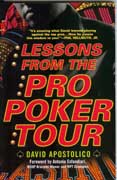 The invitation-only Professional Poker Tour is limited to the top 200 players in the world. David Apostolico is one of the elite, and he found that going up against other poker masters every day was like attending an incomparable seminar. He takes you through specific hands that he either played or observed, giving detailed analyses that will teach you how to think like a pro. Assessment and adaptability are key factors for survival and success in fast-moving games with experienced players. Smart strategy is your greatest asset, and by studying the extensive hands in this book, you'll learn the tactics and approaches of legendary winners.
Jackpot Sit 'n' Go Tournaments!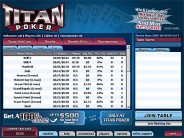 Titan Poker's jackpot sit 'n' go tournaments are extremely popular and attract veteran and novice poker players alike. The tournaments start immediately when enough players join the table, and tournament winnings are distributed according to the site's regular payout structure. If a skillful player succeeds in winning the appropriate number of consecutive tournaments, he is also entitled to receive a huge jackpot prize.
Single Table Sit and Go's are becoming increasingly popular. Not only are they the staple of online sites, many brick and mortar casinos offer them around the clock. Sit and Go's are a

David Apostolico is the author of 'Machiavellian Poker Strategy', and 'Tournament Poker and The Art of War,' and his latest title 'Poker Strategies for a Winning Edge in Business.' David's website is www.holdemradio.com/blog/ great way for beginning players to cut their teeth and gain experience. These tournaments don't take long and they offer the player an experience akin to a multi-table tournament.
So, what is the proper strategy for playing in these tournaments? The short answer is the same as it is for just about every other poker question — it depends. I coach players to start with a fundamental game plan. For sit and go's, I think that game plan should be to start out slowly. Get a feel for the table without squandering chips when the blinds are low. There are many loose players in these games and if you're patient, you should find plenty of opportunities to take their chips. If you're playing online, you don't have to worry about getting paid off for your good hands if you have been playing tight. Many players online don't pay nearly as close attention as they should and even if they are, many still won't adjust.
As the blinds gradually increase and players are eliminated, it's time to get more aggressive. Most single table sit and go's pay the top 3 players so when you get down to 4 or 5 players, play tends to tighten up. This is your chance to steal a lot of uncontested pots. If you don't have enough chips to force anyone one, then remain patient. One of the biggest differences with sit and go's (as opposed to multi-table tournaments) is that antes are never added to the mix. On the flip side, however, is that the blinds will increase rather quickly. What this means is that there is not as much incentive to steal pre-flop yet you cannot afford to wait forever for an opportunity.
Once we are down to three players, play will loosen up again significantly. Everyone is in the money and players are now jockeying for first place. It's time to switch gears again and become selectively aggressive. Use position and cards to make your moves and advance up. If you're the short stack, don't feel pressured to play any hand. If the other players have similar stack sizes, one may eliminate the other.
Now, that we have a fundamental game plan in place, remember that it's just a game plan. The best coaches in any sport win because of their ability to make adjustments during the course of play depending on what the opposition is doing. Remember that. If the play at your sit and go is extremely tight at the beginning, then go after all those loose chips out there. If everyone is trying to take advantage of bubble time and win some chips, look to trap an opponent. No matter what game plan you develop, make sure it's flexible enough to allow you to adapt to your environment.