Poker Strategies for a Winning Edge in Business
by David Apostolico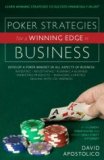 In this book, experienced poker player, tournament champion, attorney, and businessman David Apostolico takes core poker philosophies and applies them to various business situations. Readers learn how to develop a poker mindset to help them in all aspects of their business lives.

Lessons from the Felt
by David Apostolico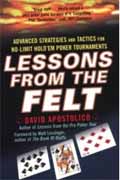 This is the next step after Apostolico's Lesson's From the Pro Poker Tour. Here he takes those lessons and turns them into action. He shows you how to apply the advanced techniques to an array of no limit hold 'em tournaments. This book is designed to help you win in every level of the arena. Provided is in depth analysis of real-life hands that the author has encountered. You can learn how to make the best decision possible regardless of your cards, or the circumstances. This book is designed to help you improve your skill, your odds, and your enjoyment.

Lessons from the Pro Poker Tour
by David Apostolico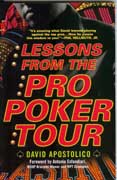 The invitation-only Professional Poker Tour is limited to the top 200 players in the world. David Apostolico is one of the elite, and he found that going up against other poker masters every day was like attending an incomparable seminar. He takes you through specific hands that he either played or observed, giving detailed analyses that will teach you how to think like a pro. Assessment and adaptability are key factors for survival and success in fast-moving games with experienced players. Smart strategy is your greatest asset, and by studying the extensive hands in this book, you'll learn the tactics and approaches of legendary winners.
About David Apostolico

David Apostolico has been playing poker for over twenty-five years. He has won tournaments in Las Vegas, Atlantic City and online and has finished in the money at the US Poker Championships (Hold'em event). David plays poker on every level from home games to top tournaments with the best professionals in the world, including events on the Professional Poker Tour. David looks to the great strategists of the past to help players develop the proper attitude and mind-set to be successful at the poker table. His books include Tournament Poker and The Art of War, which incorporates the time-honored philosophies contained in Sun Tzu's classic The Art of War and Machiavellian Poker Strategy. David's latest book is Lessons from the Pro Poker Tour which distills the strategic wisdom of great poker players like Doyle Brunson, T.J. Cloutier, Billy Baxter and many other professional poker players.
David received his J.D., with honors, from the University of North Carolina School of Law in 1988. Upon graduation, he went to work for the Wall Street law firm of Winthrop, Stimson, Putnam &: Roberts where he spent a number of years specializing in mergers and acquisitions. During his legal career, David has found the principles he learned at the poker table to be enormously useful in his negotiations on behalf of clients large and small from multi-billion-dollar corporations to family businesses.
Currently, David lives with his family outside of Philadelphia, where he practices corporate law and plays competitive poker whenever he gets the opportunity.

David's website is www.holdemradio.com/blog/
Latest David Apostolico Articles
Strategy for Making Something Happen in Poker
Iíll leave it to others to discuss whether poker is a sport or not. However, there are many similarities between poker and sports. In this article I want to explore some of those similarities and the lessons that can be learned.
A Strategy Question to Improve Your Poker Game
If you are playing a tournament and you only win those pots when you have the best hand, you are not going to advance very far. Furthermore, if you find yourself frequently calling with the best hand, you are not extracting maximum value for your strong hands.
Don't Talk Too Much When Playing Poker
On a trip to the Borgata in Atlantic City, David Apostolico was reminded of that old Run DMC song 'You Talk Too Much.' He wasn't offended by his opponents' speaking habits. On the contrary, he welcomed their comments as they were giving away more information than they intended.
Doing a 180 in Poker
Poker is still a game about minimizing mistakes. If youíre not making enough, though, youíre probably not doing enough to win, either.
The Power of Aggression
According to David Apostolico, you can't underestimate the power of aggressive play late in a poker tournament. This article gives you a real life example of how to use this poker strategy.
Calling to Exert Pressure
Common wisdom in poker says that in the great majority of situations, if you are going to enter a hand it is better to be the aggressor. But calling can also be an aggressive move.
Luck and Poker
What separates winners and losers in the world of poker? Is it luck or skill? The role of luck is a big one, but don't overestimate it.