Machiavellian Poker Strategy
by David Apostolico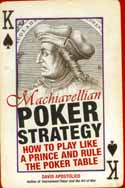 In Tournament Poker and the Art of War, David Apostolico showed players how to use the strategies explored in Sun-tzu's military manual to dramatically enhance their tournament play. Now he focuses on that other timeless masterpiece of tactical thinking—Machiavelli's The Prince—and reveals its uncanny application not just to tournament play, but to all forms of poker.
Read a review of Machiavellian Poker Strategy
Jackpot Sit 'n' Go Tournaments!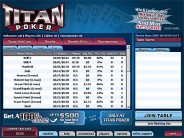 Titan Poker's jackpot sit 'n' go tournaments are extremely popular and attract veteran and novice poker players alike. The tournaments start immediately when enough players join the table, and tournament winnings are distributed according to the site's regular payout structure. If a skillful player succeeds in winning the appropriate number of consecutive tournaments, he is also entitled to receive a huge jackpot prize.
On its surface, poker is a friendly social game. Even at the biggest cash games and tournament events, players are expected to maintain a certain decorum and act civil toward each other. What many

David Apostolico is the author of 'Machiavellian Poker Strategy', and 'Tournament Poker and The Art of War,' and his latest title 'Poker Strategies for a Winning Edge in Business.' David's website is www.holdemradio.com/blog/ beginning players fail to realize is what is going on below the surface. While most players have a basic understanding of the competitive nature, very few possess the commitment necessary to look deep inside his or herself to find their true Machiavellian self.
When you enter the poker room, you have to leave your civilian self at the door. You cannot underestimate the need to go through a complete transformation. From the time we are born, we are taught to be honest and compromising. Of course, those qualities are extremely important in the real world. They just happen to be counter productive at the poker table. The card room may be one of the few arenas in this world where true Machiavellian theory can be implemented. You are entering an arena where deception is not only accepted but expected.
Mention Machiavelli and the words "the end justifies the means" immediately jump to mind. Machiavelli's theories are much more complex than those five little words. He was ahead of his time and was a realist. He realized that one's private morality would impede one's success in the public political arena. In order to succeed in the political world, one would have to completely divorce himself from his private morality. The same thing can be said about today's poker rooms. If you are going to win at the tables, you have to develop a completely different mindset than the one you carry around in your everyday life.
Try to think of it this way. If you entered a boxing ring against an opponent who was intent on beating the hell out of you, you would do everything in your power to both protect yourself and fight back. Well, when you sit down to the felt, there are nine opponents intent on doing everything in their power to take your money. If you are going to win, you have to do everything in your power to protect yourself and fight back. You should not be looking to compromise or find common ground. Rather, you should be looking to exploit every advantage. Punish your opponents' mistakes, extract every chip you can when you have the best hand, and avoid calling off chips in losing situations. Play aggressive but in a disciplined controlled manner.
There is only one way to measure success in poker. You look at the end result. You either win or lose. You are either are up or down. The difference between winning and losing players is often one or two bets per hour. Players with a killer instinct win those bets. Those who fail to make the transformation when they enter the poker room do not. Be friendly and sociable at the table, but underneath the surface make sure you have a ruthless and ambitious mindset.