SAN JOSE, California -- As reported by San Jose Mercury News: "San Jose and its two card rooms have tentatively settled long-running lawsuits stemming from the city's attempt a decade ago to restrict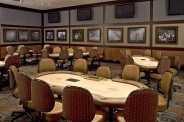 Binion's poker room gambling.
"The proposed settlement, which the City Council will consider March 24, would allow the Garden City and Bay 101 clubs to continue 24-hour operations but would limit individual gamblers to 20 consecutive hours at the tables. Secondary 'back-line' betting also will continue with monitoring by the city. And the clubs will provide more than $3 million for charitable programs to alleviate gambling-related social problems.
"...City Attorney Rick Doyle agreed the settlement 'is a win-win' for both sides, providing San Jose additional gambling regulations while avoiding the uncertainty of a trial, where a defeat could have proved costly to taxpayers. The clubs also will continue paying fees to cover the city's monitoring costs, though those costs will be reviewed. Those fees were most recently $24,000 and will stay at that level for another year under the settlement.
"Assuming the council approves it, the settlement will end a legal odyssey that began in 1999 under then-Mayor Ron Gonzales, who pushed for a set of city gaming regulations that spawned a half-dozen lawsuits..."