SCOTTSDALE, Arizona -- The newest Go Daddy Girl is off to a storybook sponsorship start, becoming the first woman in history to reach the finals in NBC's National Heads-Up Poker Championship.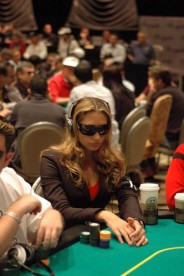 Vanessa Rousso, Team PokerStars Pro and Go Daddy Girl beat some of the poker world's top competitors in dramatic fashion to make it to the final match-up and win $250,000 at Caesars Palace in Las Vegas last night.
Vanessa's Go Daddy sponsorship was signed the day before tournament play began and the way in which this drama unfolded couldn't have been scripted any better if Go Daddy had created it as a commercial.
The new Go Daddy Girl ripped through the sport's best players in front of a live audience, ultimately facing the all-time winningest Heads-Up champion. She outplayed the 2009 tournament's overwhelming favorite, dispensed of a perennial contender and beat some of the hottest names on the circuit, setting the stage for a gripping finale. The event is sponsored by GoDaddy.com and can be seen on NBC April 12.
"They sure didn't make it easy for me," Vanessa beamed after her historic poker run. "I had possibly one of the toughest brackets of all time, but it brought out the pressure performer in me."
Vanessa's new colleague Candice Michelle, the original Go Daddy Girl, was on hand to cheer Vanessa through the entire event and coincidently handed out the winning checks on behalf of the tournament's presenting sponsor GoDaddy.com.
Go Daddy CEO and Founder Bob Parsons was all smiles this weekend, as you might expect. "Vanessa is, as they say, all in with Go Daddy baby," Parsons proclaimed. "She brings everything you'd want to the table too -- she's intellectually brilliant, sexy and as savvy a poker player as you're going to meet. The icing on the cake is seeing our new Go Daddy Girl play in a major poker tournament wearing her leather Go Daddy jacket for the first time!"
The world's hottest female poker player has now earned in excess of $2MM playing poker and joins the ranks of another Go Daddy Girl who has made history in a male dominated sport, Danica Patrick. Danica was the first woman ever to win an IndyCar Series race, having won in Motegi, Japan last April. Both women appeared in this year's Sports Illustrated Swimsuit Issue.
Danica was with Vanessa at the Heads-Up Draw Party in Vegas the night before tournament play began and walked the red carpet with her fellow Go Daddy Girls, alongside Bob Parsons.
"It's been a whirlwind adventure, meeting my new colleagues, working together in the casino and playing some of the best hands of my life...all in just a few days," Vanessa said.
The Go Daddy entourage shot an edgy new commercial together last week in Vegas, a 30-second spot set to air during NBC's broadcast of the tournament beginning in April. You can 'bet' the quintessential GoDaddy-esque ad will feature a cliffhanger pushing viewers to GoDaddy.com for the continued story and punch line.
"I liked Vanessa from the moment I met her," said Parsons who sits next to Vanessa at a poker table in the upcoming Go Daddy ad. "As you can see, she's definitely Go Daddy material!"
Plaza Roble Corporate Center
San Juan
Costa Rica
PokerStars.com is a fun, safe place to play poker with people from around the world for real or play money. The site offer the most popular poker games such as Texas Hold'em, Omaha and Stud. Real money limits range from $0.01/0.02 to $100/$200. PokerStars is an official member of the World Poker Tour, and the title sponsor of the European Poker Tour (EPT) and the PokerStars Caribbean Adventure. In the fall, PokerStars hosts the world's largest online tournament, the World Championship of Online Poker (WCOOP).