COSTA RICA - The $1 Million Turbo Takedown tournament is one year old, and to celebrate PokerStars decided to turbo charge the prizes up for grabs by giving away a brand new Porsche Cayman S -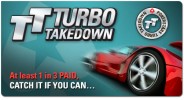 the 10th Porsche to be awarded by PokerStars! Even better, they've lowered they're buy-in to the May edition of this $1,000,000 guarantee tournament from 5,000 Frequent Player Points (FPPs) to just 2,000!
Having already awarded 9 Porsches to our players so far, PokerStars has chosen the PokerStars Turbo Takedown as the perfect route to reward players with the 10th! What's more, PokerStars also increased the tournament cap to 30,000 players - that means 10,000 players will receive a share of the $1,000,000 prize pool. So for just 2,000 FPPs, you could win a Porsche Cayman S and cash prizes worth a combined value of approximately $100,000!
This special edition of the $1 Million PokerStars Turbo Takedown will take place on Sunday, May 31 at 14:30 ET. This No-limit Hold'em event guarantees that 10,000 players will walk away with money, so you stand a great chance of turning your FPP credits into real cash.
If you don't want to use that many of your Frequent Player Points, don't worry. You can qualify for this one-of-a-kind tournament via one of our many satellites - they're running around the clock from as little as 8 FPP credits. You can find the satellites located in the PokerStars lobby, under the 'Tourney', 'Satellite', 'FPP' tabs, or the 'Sit & Go', 'Satellite', 'FPP' tabs.
How to play in the $1 Million PokerStars Turbo Takedown
Download the free PokerStars poker software (see link to right of article) or, if you already have the PokerStars software, just double-click your desktop icon
Either:
Register directly with 2,000 Frequent Player Points for the $1 Million Turbo Takedown main event. Simply click 'Tourney' and 'Special' in the PokerStars game lobby.
Or view the list of satellite tournaments for the $1 Million Turbo Takedown main event and register to play in one of these to win your 2,000 FPP buy-in. You can play in a satellite for as little as 8 FPP credits. Simply go to the PokerStars lobby and click 'Tourney', then 'Satellite' and 'FPP'.
For a tournament with no cash buy-in and a guaranteed prize pool of $1,000,000 and a Porsche, places will fill up fast, so register for your seat today. See the tournament lobby for a breakdown of how cash prizes will be paid out in May's event.
Plaza Roble Corporate Center
San Juan
Costa Rica
PokerStars.com is a fun, safe place to play poker with people from around the world for real or play money. The site offer the most popular poker games such as Texas Hold'em, Omaha and Stud. Real money limits range from $0.01/0.02 to $100/$200. PokerStars is an official member of the World Poker Tour, and the title sponsor of the European Poker Tour (EPT) and the PokerStars Caribbean Adventure. In the fall, PokerStars hosts the world's largest online tournament, the World Championship of Online Poker (WCOOP).