The PokerStars Americas Cup of Poker is a team event that will see qualifiers and Team PokerStars Pro compete for their country at a live event held in Argentina, with a $250,000 prize pool on the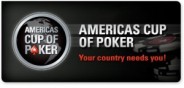 Pokerstars Americas Cup of Poker line. The action starts online, where you can help your team qualify for the live final. The eight teams who win qualification through their group will then make it to Argentina to play for the huge cash prize.
The live tournament will take place at a ski resort in Bariloche, situated against the backdrop of the Andes, in the region of Patagonia. It's the trip of a lifetime that gives you the chance to explore one of South America's most beautiful regions - and play poker for cash and the glory of your country while you are there. See below to find out how you can be part of the team that will represent your nation.
Poker is all about winning big money, but it's also about pride. And there's no greater sense of pride than the feeling you get when you represent your homeland. Your country needs you, so you better make it count.
Here's how it works
Players in the following 13 countries have the chance to compete and help their nation make it to the live final: USA, Mexico, Ecuador, Canada, Colombia, Uruguay, Chile, Venezuela, Peru, Costa Rica, Brazil, Argentina and Paraguay.
If you are in one of these countries, you can play in any of the Americas Cup of Poker daily tournaments. Participating countries have been split into groups, and each will face-off against each other week by week. During each weekly round, you can play in any or all of the daily freerolls, $0.20 or $5.50 tournaments for your country. You'll be playing to score as many points as you can for your team (see below for how points are awarded). See below for group and schedule information. To register, open the PokerStars lobby, click 'Tourney' and 'Regional'.
When all the group matches are complete, the two countries with the most wins in each group will go on to the live final in Argentina. Check out the Country Rankings page for the latest national rankings.

Plaza Roble Corporate Center
San Juan
Costa Rica
PokerStars.com is a fun, safe place to play poker with people from around the world for real or play money. The site offer the most popular poker games such as Texas Hold'em, Omaha and Stud. Real money limits range from $0.01/0.02 to $100/$200. PokerStars is an official member of the World Poker Tour, and the title sponsor of the European Poker Tour (EPT) and the PokerStars Caribbean Adventure. In the fall, PokerStars hosts the world's largest online tournament, the World Championship of Online Poker (WCOOP).