Club USA Casino Blackjack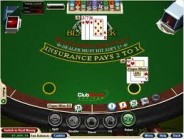 Club USA Casino Blackjack is the best bet for practicing blackjack basic strategy without stress and distractions. The game comes in both free play and real money modes and you can play up to three hands on your own table. The rules are favorable and with a house edge of only 0.71%, better than many casinos. The table minimum is $1 per hand and the maximum is $500.
Poker Stars

Poker Stars has reopened for most of the world, but not yet in the United States. It is endorsed by professionals like
Daniel Negreanu
and Chris Moneymaker. The site offers Texas Hold'em, Omaha, Omaha 8/b, 7 Card Stud, 7 Card Stud 8/b, Crazy Pineapple, Crazy Pineapple 8/b, Triple Draw, Royal Hold'em. Table limits range from penny games up to $300-600. The competition leans to the more challenging end of the spectrum.
GIBRALTAR -- May is going to be a big month at www.partypoker.com/, with two highlights at the end of this week! The Million Dollar Race is PartyPoker.com's biggest ever rake race and gets underway


on Friday 1 May and the fourth running of the Monthly Million is on Sunday 3 May.
The Million Dollar Race is an exciting leaderboard promotion where 3000 players will share over $1,000,000! Depending on rank, players will receive a cash amount AND a WSOP® prize (package or freeroll entry into an online qualifier). The leaderboard winner will receive $20,000 and an elite WSOP® package worth $20,000! All you have to do to get involved is play real money cash games at PartyPoker.com – if you are in the top 5000 it will be noted in your Party Account and it will be updated at least once an hour. If you finish in the top ten you are guaranteed cash and a trip to Vegas!
A PartyPoker.com spokesman said: "This promotion is simple - the more Race Points you earn the higher up in the leaderboard you climb and the more cash and prizes you can win. We are under starters' orders and off for our biggest ever rake race this Friday. The race has great prizes from 1st through to 3000th!"
Please note that throughout the duration of the promotion players earn Race Points as well as PartyPoints – only Race Points count for this promotion. The full mechanics of the promotion can be found at: www.partypoker.com/news/items/mdr.html
The fourth running of the PartyPoker.com Monthly Million takes place on Sunday 3 May at 12.45 EST (17.45 BST, 18.45 CEST). The buy-in to the $1,000,000 guaranteed championship blind structure event is $600+$40 but the diverse qualifying paths mean players can join the qualifiers from as little as $1. The wide range of qualifiers for the Main Event include $64+$4 daily satellites with 19 seats guaranteed - a Mega Friday $50+$5 satellite that guarantees 20 seats and Super Satellite Saturday qualifiers with a $32+$3 buy-in and 15 seats guaranteed. For more information see: www.partypoker.com/news/items/monthly_million.html
1567 players took their seats for the third running of the PartyPoker.com Monthly Million on Sunday 5 April and it was Holland and Denmark that shared the spoils. AceBarbara and IIIPLAYMEIII both walked away with $155,000. Representatives from Canada, Australia, France and the United Kingdom also cashed at the final table.
PartyPoker.com is the world's largest online poker brand in terms of number of players and revenues. The company is licensed in Gibraltar.