WASHINGTON, DC - As reported by Bluffmagazine.com: "When it became public knowledge that President Barack Obama had a penchant for the casual poker game, it became a viable consideration that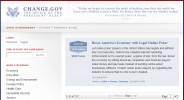 Obama's briefing book showing online poker as a top tech issue for American the then-presidential candidate would be open to pro-poker legislation if he was voted into the highest office in the United States. More than 100 days into his presidency, after having asked for Americans to voice their opinions about important issues via the White House Citizen's Briefing Book, Obama will be faced with the issue of legalizing online poker because it ranked as the top technology issue by the American people.
On May 12, the final copy of the White House Citizen's Briefing Book was released to the public after months of input..."
"Boost America's Economy with Legal Online Poker (46,890 points)
Let online poker players in the United States play legally and without fear of prosecution. Reform the Unlawful Internet Gambling Enforcement Act to exempt poker, a game of skill, from the law. Boost the economy by letting American companies and American players make money and pay taxes instead of sending online poker businesses offshore. Protect online poker players by regulating the industry to ensure that no one is ever cheated."
For more information on the White House Citizen's Briefing Book go to change.gov/newsroom/entry/wrapping_up_the_citizens_briefing_book/