LAS VEGAS —- As reported by USA Today: "The final table is set at the World Series of Poker.
The nine players who will compete in November for the top prize of more than $8.5 million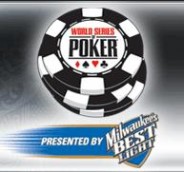 include a Maryland logger, a New York investment banker, a superstar of pro poker and players from England and France. Every one of them already is assured at least ninth place money of $1.26 million.
After a recess of 115 days, the "November Nine" will finish the tournament Nov. 7-10 at the Rio hotel and casino.
The original field of 6,494 entrants was reduced to nine Wednesday night when Jordan Smith of College Station, Tex., was eliminated in 10th place (worth $896,730).
Smith had a pair of aces as his hole cards on his final hand. He pushed his chips all in against Darvin Moon of Oakland, Md., who was holding a pair of eights. But the three-card flop in Texas Hold 'em gave Moon a third eight that finished Smith..."
The final nine candidates include Phil Ivey, Darvin Moon, Eric Buchman, Jeff Schulman, Joseph Cada, Kevin Schaffel, Antoine Saout, James Akenhead and Steven Begleiter.
The prize money for the final table will be:
2: $5.18 million
3: $3.48 million
4: $2.50 million
5: $1.95 million
6: $1.59 million
7: $1.41 million
8: $1.30 million
9: $1.26 million
Rio All-Suite Hotel & Casino
3700 W. Flamingo Road
Las Vegas, NV 89103
Toll Free Phone: (800) PLAY-RIO
Website: www.harrahs.com/our_casinos/rlv/

The Rio stands in a class by itself. The beautiful hotel-casino offers the extravagance of suite living, the excitement of first-class shows and lounges, the action of non-stop gaming, and the luxuries of the world's top resorts.