DUBLIN, Ireland -- CarbonPoker is pleased to announce the launch of the Carbon Million Promotion.
Beginning in July, the Carbon Million is a contest open to all CarbonPoker players. The 60-day promotion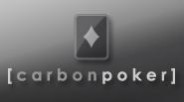 offers over $1,000,000 in cash with over 25,000 prizes.
The Carbon Million has 21 tiers of individual prize levels that range from $2.50 - $20,000. As there are a limited amount of prizes per tier, only a set number of customers will win at a given level. The first players past the post take the prize. All of the prizes will be awarded at the close of the promotion on September 8, 2009.
Customers have 60 days to move up through the 21 tiers by accumulating VIP Points on the poker site. The more hands played will equal more VIP Points and bigger cash prizes.
Carbon players are automatically entered into the largest promotion of the summer. Company spokesman Jay Manning reports, "We're already getting a lot of interested players increasing their number of tables, hands and tournaments in order to move up the ladder and win bigger prizes."
During the contest's date range (July 9, 2009 - September 6, 2009), VIP Points will be tracked and updated by the CarbonPoker admin, so winning has never been easier. All players need to do is play and watch their totals rise.
"CarbonPoker tables are buzzing with excitement," Manning continued, "as players race to obtain the next reward level before it fills up. With over a million dollars to be awarded at 21 different levels of VIP points, CarbonPoker players of all bankrolls have a chance to win during the Carbon Million."

Carbon Poker
Website: www.carbonpoker.com

Carbon Poker is the fresh new face in the online poker world, growing rapidly and sporting a stylish look, Carbon Poker is an online poker room dedicated to providing users with the best possible online gaming experience. Carbon Poker accepts players worldwide and is focused on catering to all player groups through active promotions, game variety, quality software and security. Carbon Poker operates on The Merge Gaming Network.