Full Tilt Poker Strategy Guide
by Michael Craig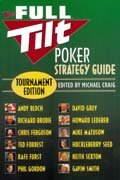 Craig has interviewed the golden dozen players big-time competitors Huck Seed, Chris Ferguson, Howard Lederer, Phil Gordon, Gavin Smith, Ted Forrest, David Grey, Mike Matusow, Andy Bloch, Rafe Furst, Richard Brodie and Keith Sexton for special insight into the world of high-stakes tournament poker. This book is very special because it carries original, smoothly arranged material for the highest level of play. It's like being able to sit in at a small, round-table, specialized seminar and being allowed to ask those key questions few players have the time to answer. Craig pulls that information from the players and arranges it so it can be absorbed, analyzed and applied easily. There are 19 extraordinary chapters that include eight on no-limit play with topics such as the Theory of Leverage; Play Before the Flop; Play After the Flop; Big Stack Play; Short-Stack Play and Online Tournament Strategy. Chapters also focus on pot limit hold'em; limit hold'em; Omaha eight or better, and pot limit Omaha. Chapters also discuss seven card stud tournament play.
Read a review of Full Tilt Poker Strategy Guide
ATLANTIC CITY, N.J, -- The 2008 Borgata Poker Open, which offered a $5 million prize pool -- the largest ever guaranteed by a casino -- concluded Thursday night with 22-year-old Vivek Rajkumar winning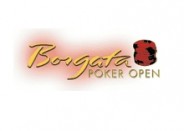 The Borgata Poker Open $1.4 million in first-place prize money along with the 2008 Borgata Poker Open title.
Rajkumar is part of a new breed of online poker players. Not only is he a newcomer to the Borgata Poker Open, he's fairly unknown to tournament play. Rajkumar honed his poker skills by playing online, which proved valuable during aggressive play against top contender, Sang Kim, an eight time tournament winner and black belt Taekwondo instructor.
Eliminations began quickly during the last day of Borgata's Poker Open. In only six hands, Andrew Knee was eliminated when his Ace/Four failed to pair the board. Knee earned $237,500 for finishing sixth.
The next player to fall was Mark Seif. Seif's title hopes were dashed when his pocket Aces cracked by Rajkumar's set of tens. Seif collected $287,500 for his tournament play.
Nine hands later Jason Strochak fell victim to elimination after losing a crucial hand to Sang Kim's pocket Kings. Strochak took home $337,500.
With only three final players at the table, the action continued rapidly as World Series of Poker bracelet-owner Dan Heimiller made a run at the top spot. Unfortunately for Heimiller, he was unable to overcome a short stack and was eliminated in third place. He earned $387,500 for his five days of tournament play.
With one last opponent to defeat, the online whiz kid, Rajkumar, took down Sang Kim in six hands of play. Kim collected $750,000 for his second-place finish -- the most in his career -- while Seattle, Washington native, Rajkumar, banked $1.4 million in first place.
Borgata Hotel Casino & Spa
One Borgata Way
Atlantic City, NJ 08401
Borgata is a joint venture of Boyd Gaming Corporation and MGM MIRAGE. Located at Renaissance Pointe in Atlantic City, it features 2,000 guest rooms and suites, 125,000 square feet of gaming, 163 gaming tables, 3,600 slot machines, 11 destination restaurants, 11 retail boutiques, a 54,000 square foot spa and 70,000 square feet of event space.