ATLANTIC CITY, New Jersey -- As reported by The Press of Atlantic City: "Caesars will mix high rollers with high pops in a new marketing agreement with the Mets to help the Atlantic City casino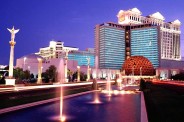 Caesars Palace tap the lucrative New York market for more gambling customers.
"As part of the deal, the Caesars brand will be prominently displayed in advertisements at Citi Field, the new $800 million ballpark christened by the Mets in their home opener Monday night.
"There will also be a Caesars Club, an exclusive dining and entertainment area within the stadium that features 12,000 square feet of space and seating for 900 people.
"Harrah's Entertainment Inc., parent company of Caesars, hopes the marketing deal attracts wealthy New Yorkers to the Roman-themed Boardwalk casino and its three other Atlantic City gaming halls - Harrah's Resort, Bally's and Showboat Casino Hotel.
"Harrah's Entertainment will give Mets fans special offers to its casinos and also stage theme nights at the 42,000-seat stadium. Harrah's promotional rights also extend to the Mets' minor league clubs in Port St. Lucie, Fla., and Coney Island, N.Y.
"Terms of the multiyear agreement were not disclosed..."
Caesars Atlantic City
2100 Pacific Avenue
Atlantic City, NJ 08401
Toll Free Phone: (800) 223-7277
Website: www.caesarsac.com

The glory and opulence of Ancient Rome comes alive at Caesars Atlantic City. Located at center Boardwalk, the Empire offers the thrills of non-stop casino action, luxurious accommodations, gourmet and casual dining, four lounges, and world-class entertainment. Shopping, health spa, outdoor pool, tennis courts, and 24-hour room service also available. The casino has 124,720 square feet of floor space with more than 3,400 machines and a full complement of table games and poker tables.