Frugal Gambler
by Jean Scott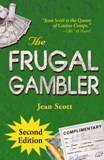 Though Jean Scott was well-known to a select few Las Vegas aficionados throughout the '90s, it wasn't until the publication of The Frugal Gambler in 1998 that she became a household name to casino players across the country. Her frequent national publicity, her long-term success in casinos around the world, and the solid low-rolling advantage-play techniques she's divulged along the way have all helped catapult The Frugal Gambler into the ranks of best-selling gambling books. The new revised edition includes a completely revamped chapter on video poker, updated coverage of getting the most out of slot clubs, recent examples of exploitable gambling promotions, and a brand new Resources section, identifying the best sources of player information available-from books to software to the Internet.
Casino-on-Net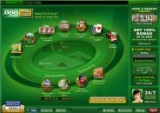 Casino-on-Net uses Random Logic software and is one of the best-established online casinos on the Internet. The site is currently offering up to a $200 bonus on all deposits, secure transactions, and a wide range of betting limits. Easy to navigate and fun to play, Casino-on-Net has earned its place as a ReadyBetGo! recommended online casino. Currently, Casino-on-Net does not accept US players.

Jean Scott's Queen of Comps
Jean Scott, the Queen of Comps, is best known for encouraging smarter casino gambling and that's why we are happy to encourage you to visit her site. Her practical suggestions will save you time and money in your quest to make your time in the casino more fun and profitable.
Lady Luck : The Theory of Probability
Everyday questions such as "Should I take my umbrella?" involve probability — a topic important in daily life and in science. This witty, nontechnical introduction to the subject elucidates such concepts as permutations, independent events, mathematical expectation, the law of averages and more. No advanced math required. 49 drawings.
I have long advocated choosing casino games that involve skill, such as
blackjack
and
video poker
, because you can study and improve your chances for winning. But the vast majority of

Jean Scott is known as the "Queen of Comps" and encourages smarter casino gambling. She appears on network and cable TV, especially on the Travel Channel. Her down-to-earth practical suggestions will save you both time and money in your quest to make your trip to the casino more fun and more profitable. Jean's website is www.queenofcomps.com
players take comfort in the much more convenient -and much less strenuous - concept of luck. And that's not necessarily always a bad thing; I have seen some benefits of appealing to that capricious beauty—Lady Luck.
Some players like to ask a change person to point them to a lucky machine, that is, one that will hit a jackpot soon. Now, no casino employee knows that information - but many will give you their guess. And if you take their advice and lose? Well, you now have someone to blame for your bad luck. Some people feel better when they can think of a reason, a valid one or not, why they lost.
Often players don special clothes in which to gamble. Maybe you wore a particular shirt the last time you had a big win. If you feel lucky in that shirt, what's the harm? I have a pair of gold tennis shoes I wear when I play in home poker games. I certainly don't believe my shoes are responsible for wins and losses. But it sometimes psyches out the other players when I tell them that my golden shoes make me unbeatable.
I occasionally see people pushing the single credit button on a slot machine two or three or five times, rather than hitting the max-coin button once. Pure superstition, of course, that this will help you win, but it's actually a good idea if you're playing a machine with a high house edge. Anything that slows down your play will cut down on your losses and the less you lose, the "luckier" for you. The same is true of taking the time to change machines often.
I've seen players try to "control" slot machines by certain actions. They'll get up and walk around their machine to "disturb the aura," rub the machine to "massage" out a jackpot, peck on the glass to "wake up" the wild cards, even kiss the machine (I advise against this for reasons of hygiene). A friend of mine uses one of the funniest techniques I've ever come across. She "punishes" naughty machines by putting them in "time out" while she plays an adjoining one. None of this fazes the mindless machine – but it seems to relieve player tension!
I'm fascinated by all the rabbits' feet, four-leaf clovers, trolls, pictures, tiger's teeth, prosperity potions, and assorted talismans that decorate, for example, the tables of any bingo hall. I don't have to wonder why everyone seems to be having a good time—it's because there's so much "luck in the air."
And that's the point. If your good-luck frog on top of a video poker machine or a picture of your grandchildren behind the coin slot makes you feel good, then it's valuable, because that's one of the goals of gambling – entertainment, an activity that gives you a good time. Using "lucky" charms or rituals is harmless as long as you realize they're just something to relieve the mental stress when you're on the losing side of a gambling session. Only when you believe that they can change the odds of a game and you depend on them for luck, instead of developing your skills, does it become a harmful thing. Did you ever notice that you don't need them so much when you're winning?
Want to read more that Jean Scott writes about gambling, especially comps and video poker? Go to www.frugalgambler.biz to order her books.