Million Dollar Video Poker
by Bob Dancer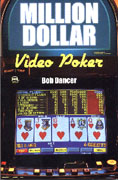 Bob Dancer is a video poker legend. His software, books, and strategy cards have become sought-after items for beginners or serious video poker players. His books provide beginners, serious players, dedicated players, tournament players and anyone even thinking of playing these addictive, sometimes lucrative machines with more angles, strategies, and stories about those who win or lose (and why) than any book published in recent years.
Read a review of Million Dollar Video Poker
Stretch Your Bankroll Online!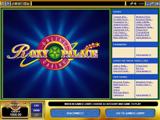 Roxy Palace can really help you stretch your casino bankroll. The casino has games with more favorable odds than you would find at most casinos in the United States. Add to that the generous bonus that you receive just for signing up, and you are getting a lot of extra playing time for your gambling dollar.
Over the course of my video poker career, my
gambling bankroll
has continued to grow. Although losing streaks abound (including a $100,000-in-the-soup first two weeks of 2006), I've always recovered

Bob Dancer is one of the world's foremost video poker experts. He is a regular columnist for Casino Player, Strictly Slots, and the Las Vegas Review-Journa land has written an autobiography and a novel about gambling. He provides advice for tens of thousands of casino enthusiasts looking to play video poker. Bob's website is www.bobdancer.com
(not completely yet from the most recent slide, but I'm well on the way) and my net wealth/bankroll keeps increasing. I believe that is an almost-inevitable consequence of limiting my play to games where I have an advantage, playing well, and playing for stakes where there's no chance of me going bankrupt.
But there's a lot more to bankroll than that. Other players know the games, limit themselves to good games, but their wealth doesn't increase very much, if at all. The reason for this, I believe, is something I call "bankroll leakages."
Most people don't completely separate gambling bankroll from the rest of their wealth. If they buy a new car, it affects gambling bankroll. If they refinance their house at a lower interest rate and find their mortgage is reduced by $300 a month, that increases their gambling bankroll. While this isn't true for everybody, I believe it is true for many.
For those for whom it IS true, then every expense they have reduces their gambling bankroll. For most people, a major source of their wealth is not spending what they already have. If two people both have $50,000 a year in income (from whatever source) and one spends $25,000 a year and the other spends $52,000 a year (by increasing debt), guess which one becomes wealthier at a pretty fast clip? Not because of what they EARN (including gambling jackpots), but because of what they SPEND. Or, more accurately, what they DON'T spend.
One thing I have in common with
Jean Scott
(who's made a career out of proclaiming her frugality) is the understanding of old Ben Franklin's "A penny saved is a penny earned" maxim. For me, the amount of money spent on alcohol, tobacco, and recreational drugs is zero. Most meals I eat are
comped
, and most vacations are somehow subsidized by a casino. I still have a very nice 2002 Mercedes courtesy of the MGM Grand that I expect to last another six to ten years. Shirley's 2001 minivan (thank you again MGM) will need to be replaced earlier than that, but it will be done so with a durable, quality vehicle. Shirley buys most of our clothes on sale, and even that is often from gift cards supplied by casinos. I tip in casinos, but do so modestly.
Most people have the ability to increase their wealth simply by spending less. It seems silly to me to worry about whether you are playing
NSU Deuces Wild
at the maximum 99.728% or "only" 99.71% if you're regularly spending far more than you have to for other things in your life. On $100,000 worth of play, that will take a while for all but the highest rollers, there's a $17 difference here. But how much you tip could easily be more than that. Or leaking money in a variety of other ways could dwarf that $17 difference.
Everyone has to figure out themselves the difference between "frugal" and "cheap". Driving a Lexus is not the same as driving a Kia. But perhaps having an extra $30,000 wealth by owning a Kia can make up for it. Perhaps not. You have to make that decision personally. A weekend at Bellagio is not the same as a weekend at the Riviera. Living in some neighborhoods is more expensive than living in certain others --- but it may well be worth it to you. I am definitely not making a "cheaper is always better" argument, but I am suggesting that a reevaluation of how you spend your money might create additional bankroll that you didn't know you had.