More Book Reviews
Best Selling Poker Books of 2014
How did the new books compare to the old classics? Well, we will let the data speak for itself. Take a look at the list of the best selling poker books of 2014.
Deal Me In and Eat Professional Poker Players Alive Reviewed
There isn't a clear path by which people become professional poker players. There aren't any good courses at the local vo-tech for a person to study. The road to becoming a poker pro is inevitably difficult, circuitous, and filled with setbacks. Deal Me In is a book describing the course by which twenty top poker players became professionals.
Poker Winners Are Different
There is a big difference between what's typical human behavior and what is called for to play poker at a high level. There aren't a lot of people for whom maximizing their expectation in poker games comes naturally. Poker Winners Are Different by Alan Schoonmaker examines this conundrum.

Million Dollar Video Poker
by Bob Dancer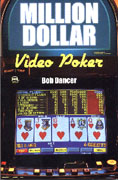 Bob Dancer is a video poker legend. His software, books, and strategy cards have become sought-after items for beginners or serious video poker players. His books provide beginners, serious players, dedicated players, tournament players and anyone even thinking of playing these addictive, sometimes lucrative machines with more angles, strategies, and stories about those who win or lose (and why) than any book published in recent years.
Bob Dancer is one of the legendary names in the world of Video Poker. Not only does he write for numerous gambling magazines, but he puts his money where his mouth his. For most of the last

Nick Christenson is widely regarded as one of the best gambling book reviewers publishing today. He is a contributor for Poker Player magazine, and has published in Full-Tilt and Gambling Times. He is also the editor of the very funny 'Casino Death Watch,' which chronicles the comings and goings of casinos in Las Vegas. He is an avid poker and blackjack player. Nick's website is www.jetcafe.org/~npc/ decade, Dancer (a pen name) has made the bulk of his money by playing Video Poker in Las Vegas. This is his story.
Million Dollar Video Poker is a mostly chronological narrative of Dancer's professional gambling career. We get some details of the author's life before he moved to Las Vegas, including a look into his personal details. Like many, perhaps most, professional gamblers, Dancer struggled in his early years. Converting from a focus on Blackjack to Video Poker, then working his way up the ladder from quarters to dollars to larger denomination machines, we get a good sense of the ups and downs in the life of a marginal gambler who has made it to the big leagues.
By his own admission, Dancer then hit a lucky streak as he started taking some shots on some larger machines. This allowed his bankroll to grow faster than he would have expected. However, throughout the career of any professional gambler there will be long streaks of both better and worse than expected results. Many highly successful gamblers hit a lucky streak at an opportune time that allows them to accelerate the stakes at which they play ahead of schedule, and Dancer is one of these. This doesn't mean, of course, that the author used luck to substitute for skill. On the contrary, Dancer provides a great deal of information backing up just how hard he works and how disciplined he is in his approach to his chosen profession.
On the topic of hot streaks, the run Dancer and his wife went on from September, 2000 through March, 2001 has to be one of the great wins in Video Poker history. It is this period which gives us the title of this book. The "Dancers" did, indeed, net over a million dollars playing video poker during this time. The reader is treated to a detailed treatment of the circumstances under which this occurred and a blow-by-blow description of many of the sessions as they happened. Dancer does a good job walking a fine line by providing the reader with key details without including too much. This is about as compelling as a description of playing Video Poker is going to get.
Million Dollar Video Poker is primarily a true-life narrative of a legendary figure in the Video Poker community. Nonetheless, a lot of good advice has been stirred in to the pot. Dancer's abiding belief that one should come to know even the most minute details of a game's strategy comes through clearly. His strong work ethic and the methods he uses to prepare for his job are also chronicled in some detail. We also get quite an education on how the author scouts the promotions he plays, including the mistakes he has made. On the minus side, I found some of the comments he makes about other Video Poker authors to be ungracious, but this represents a very small complaint about an otherwise excellent boot.
Million Dollar Video Poker is primarily a fun story about how someone, through hard work and a little opportune luck, made it to the big time playing Video Poker. Even though it's primarily entertaining, the reader can benefit significantly by learning from the author's successes and failures. It is my opinion that even though Video Poker may not have the glamour of other high-stakes gambling, those who enjoy a good story about a true-life gambling experience will enjoy this book. Serious video poker players will find enough good advice in this book to make it worth reading from a bottom-line aspect as well. I recommend Million Dollar Video Poker.