More Book Reviews
Best Selling Poker Books of 2014
How did the new books compare to the old classics? Well, we will let the data speak for itself. Take a look at the list of the best selling poker books of 2014.
Deal Me In and Eat Professional Poker Players Alive Reviewed
There isn't a clear path by which people become professional poker players. There aren't any good courses at the local vo-tech for a person to study. The road to becoming a poker pro is inevitably difficult, circuitous, and filled with setbacks. Deal Me In is a book describing the course by which twenty top poker players became professionals.
Poker Winners Are Different
There is a big difference between what's typical human behavior and what is called for to play poker at a high level. There aren't a lot of people for whom maximizing their expectation in poker games comes naturally. Poker Winners Are Different by Alan Schoonmaker examines this conundrum.
Jackpot Sit 'n' Go Tournaments!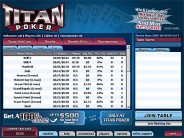 Titan Poker's jackpot sit 'n' go tournaments are extremely popular and attract veteran and novice poker players alike. The tournaments start immediately when enough players join the table, and tournament winnings are distributed according to the site's regular payout structure. If a skillful player succeeds in winning the appropriate number of consecutive tournaments, he is also entitled to receive a huge jackpot prize.

Internet Texas Hold'em
by Matthew Hilger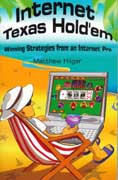 Internet Texas Hold'em: Winning Strategies from an Internet Pro is a comprehensive overview of Texas Hold'em including general poker concepts such as probability and odds, bluffing, raising and check-raising. Various deceptive tactics are also discussed such as free cards, slowplaying, and inducing bluffs and calls. You'll learn the correct strategies for starting hand play as well as playing on the flop, turn, and river. You'll learn the intricacies of playing on the Internet and the differences in strategies between Internet and live play. Finally, you'll be able to practice all of these strategies on over 200 actual Internet hands.
Over the last year, gambling authors have worked to provide books specific to the needs of Internet poker players. So far, each of these books has occupied it's own niche within the book. One of

Nick Christenson is widely regarded as one of the best gambling book reviewers publishing today. He is a contributor for Poker Player magazine, and has published in Full-Tilt and Gambling Times. He is also the editor of the very funny 'Casino Death Watch,' which chronicles the comings and goings of casinos in Las Vegas. He is an avid poker and blackjack player. Nick's website is www.jetcafe.org/~npc/ these is Internet Texas Hold'em, written by online poker professional Matthew Hilger.
Hilger's book is structured in a familiar manner. The book begins with some introductory remarks and then proceeds to discuss starting hands. The recommendations in this book don't stray too far from the consensus of many other authors. Some would say that Hilger's recommendations too often have a player entering the pot by calling rather than raising, and depending on the texture of the game, I might agree.
The author moves on to cover play on the flop, turn, and river. At each stage, the reader is presented with the author's advice on how a player should proceed. The advice includes several examples, and most chapters end with a quiz over its concepts. More often than not I find myself at least mildly in agreement with the author regarding his recommendations. Sometimes, though, I find the quiz answers are different than I'd expect. Of course, I haven't made six figures in a year playing online poker (nor have I tried), so the reader of this column should feel free to prefer the advice of whomever they'd like.
The book concludes with some more general information, including some advice specific to playing Internet poker. Note, though, that other advice specific to the online game is sprinkled throughout the text. Generally, I think Hilger's recommendations are good, although he's a little sketchy on some points and his focus seems to wane a little toward the end of the book. For example, while he advises keeping good records about sessions and players, he doesn't follow through as much as I'd like on details about the range of information that can be usefully accumulated.
The book is written in a straightforward manner, but there are a few rough sentences and sentence fragments that I expect would have been caught by a good copy editor. For a self-published book, though, it's not bad. The author writes in a straightforward style and is adept at communicating his ideas to the reader. I have to admit, though, that for some reason I cannot fully articulate, I found reading this book to be slower going than I expected. Maybe reading roughly the same "how to play Hold'em" advice from the umpteenth different author has finally caught up with me.
Overall, this book aims to be a complete reference for someone who wants to play Texas Hold'em online, and I would say that it basically achieves its goals. I would expect a thoughtful player who understands this book, heeds its advice, and keeps good records to do well in the online game, although I believe there are many useful concepts that this book doesn't cover. For those who are winning live game players, and for those who don't wish to play Hold'em, this book contains much that doesn't doesn't need to be learned from scratch, but overall I'd recommend this book, especially to those who want to take a one-stop-shopping approach to winning Hold'em online.