Blackjack has now become one of the most intense games in online casinos. Many books have been written about it, and optimal game strategies are widely known and disclosed, which can bring huge amounts

There are occasions when we here at ReadyBetGo want to bring you interesting facts about the gambling industry When something catches our eye, we will publish it for your enjoyment.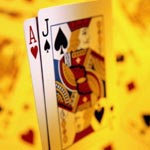 of money to a successful player.
What are the most common mistakes blackjack players make? For your convenience, we have collected top tips that will help you to become a better player.
Believing that Blackjack is a Team Game
You may think that blackjack is a team game. Therefore, at the table, everyone must work together to be able to beat the dealer. Thinking this way is a dangerous mistake. It is worth playing only according to the basic strategy.
Not Knowing Basic Strategy
Whether you are playing online blackjack on Bovada or any other game, there are certain rules that it is advisable to follow in order to beat your opponents. To achieve success, it is very important to avoid common mistakes in this game. Besides, one of the most important skills in blackjack is having a good grasp of basic strategy. This is the set of rules that outlines the best possible move in any given situation.
Knowing basic strategy helps you make the most profitable decisions, and it can have a major impact on your bottom line.
Unfortunately, many players don't pay enough attention to the basics, which can be a costly mistake. Of course, there is no 100% winning strategy but still, it could increase your chances of winning.
Placing Side Bets
Placing side bets is one of the most common mistakes. It costs as little as a dollar and comes in many varieties. The option is quite an attractive opportunity for amateur players.
However, it is important to understand that even if the player wins a number of additional bets, he will lose more. After all, the advantage in the game in this case is on the side of the casino. Since side bets are not worth much compared to normal odds, the player is tempted to keep betting without paying attention to his losses.
Getting Too Excited
If we talk about the main mistakes when playing blackjack, then we should mention much excessive and uncontrolled excitement. Players, whose attention is immersed in the atmosphere of blackjack, flaunt their love for big risks. They bet far more than they can afford and only play because they came here to play, not to win.
It is possible to win in the blackjack card game, but for this, it is important to remember what you are playing for. Don't play just for the sake of impressing other players. Make sure to take control of your emotions.
At the beginning of the game, you need to keep your own bets at a minimum. If you are lucky enough to win several bets in a row, you should not imagine yourself invincible. If all your money is lost, you need to come to terms with the fact that today is not your day.
Not Knowing When to Split or Double Down
Splitting and doubling down are two powerful techniques that can give you an edge over the house. However, they can also be dangerous if used incorrectly. It's important to know when it's the right time to split or double down
Players often try not to double down. But in the right situations, this is definitely the best way y to raise big money. Some casinos give the right to double only if there are some combinations, but if the player is sure that the very last card will be winning then the bet can and should be doubled.
Not Tracking Your Bankroll
Another common mistake is not tracking your bankroll. It's important to know how much you have to play with and to manage your money responsibly. This means setting limits on how much you can afford to lose and sticking to them.
If you don't track your bankroll, you may find yourself in a situation where you're betting more than you can afford to lose, which can be a dangerous game.
Not Taking Advantage of Bonuses and Promotions
Many casinos offer bonuses and promotions for blackjack players, and it's important to take advantage of them. Bonuses can give you extra money to play with, and promotions can help you maximize your winnings. Not taking advantage of these offers can be a big mistake.
The Bottom Line
Of course, no one can play without making a single mistake. We are talking about a game of chance, where luck is also important. However, it is necessary to understand these pitfalls and avoid them if you want to be successful in the game.
With a little practice and the right attitude, you can become a proficient blackjack player and maximize your chances of winning.