Blackjack is one of the most popular table games in any online casino room. The card game sees you take on the dealer where the aim is to have the best hand without busting 21.
Here are some tips

There are occasions when we here at ReadyBetGo want to bring you interesting facts about the gambling industry When something catches our eye, we will publish it for your enjoyment.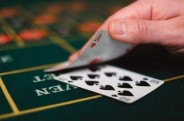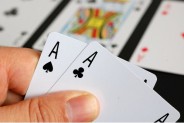 which will hopefully help you the next time you play.
Splitting Pairs
If you are dealt a pair in blackjack, you have the option of splitting them to create two hands. You will be required to match your initial stake and then you are dealt a new card to each hand which will then be played independently.
There are two things to consider before making your decision here in any casino online blackjack game. The first should be the value of the cards you have. If they are two 10s, together they combine to make 20, which is a hand you should be very happy with. A pair of 9s or 8s though may produce better hands separately as you have a strong chance of hitting a 10 with them.
It is also worth considering the value of the dealer's card when splitting your hand. This will give you a good idea about how strong their hand is. If you feel they are vulnerable, you may decide to add the extra investment to the table.
Each New Hand Is A Bet
Most punters who have a punt in a sportsbook with a bookmaker will have read the latest sports betting news before placing their bet, considered the best odds available and the length of the match or tournament they are betting on. In blackjack, things happen much more quickly. It is therefore important that you realise each new hand is another bet.
Limiting yourself to a certain amount of time at a table or number of hands can really help you manage your bankroll. Remember, it is a game of chance so no matter how good you feel about the decisions you take, some days the cards will fall against you.
If you are looking to lengthen your time at a table, choose those which have other players on them. Some tables allow for up to seven players at them. The hands will take longer and it can actually be more fun as you all have the same goal, to beat the dealer.
Double
Arguably the biggest decision you can be faced with in blackjack when gaming online is the option to double down. This is where you match your stake after your cards are dealt and take just one more card from the pack.
With more cards to the value of 10 than any other in the game, you should consider that you have more chance of hitting one of those than anything else.
Doubling up is a good option when the dealer is dealt a 5 or 6 as their likelihood of busting out is much greater at this point.
Blackjack
Hitting blackjack is what every player wants in the game. Blackjack is where you are dealt an Ace and card which is to the value of 10. Many games pay you out at odds of 6/4 so there is a nice little bonus on top of your usual winnings.
Although you can't lose the hand when you are dealt a blackjack, the dealer can tie by also hitting the same hand.
The other option to consider with blackjack is the insurance you are offered when the dealer has an ace or card to the value of 10. It is best to decline this as if they don't go on to complete the hand, you could end up losing twice.
Enjoy your next game of blackjack and hopefully the above helps you make your next difficult decision in the game.