There are many casino games including poker, Roulette, etc. However, the origins of Blackjack are still controversial to this day. Without complete agreement, researchers favor the idea that the classic

There are occasions when we here at ReadyBetGo want to bring you interesting facts about the gambling industry When something catches our eye, we will publish it for your enjoyment.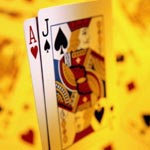 game originated in French casinos in 18th century. The French game was called Vingt-et-Un, which means twenty-one. It was a derivation of the French card games Ferme and Chemin de Fer, which were common for at the time and played at the Royal court. There is also a theory that Blackjack was initially invented by the Romans. Supposedly, they played it with wooden blocks with various numbers. The theory sounds logical since Romans loved gambling, but there's no 100% proof.
Beside different versions of twenty-one, the popularity of the game expanded to the United States, thanks to French colonists. Rules of that time were different from the Blackjack that we know now. In the earlier days, the dealer was the only one who was allowed to double.
Throughout Europe, games that like Vingt-et-Un were created like Italian Sette e Mezzo (Seven and a Half), French Quinze (Fifteen) and Spanish Trente-Un (One and Thirty).
Sette e Mezzo is played with a card deck of 40. Face cards earn half a point and Aces count to seven points; other cards have their normal number of points. The goal of Trente-Un is to get as much as points to the score of 31 points. Jack cards can be counted to 11 points, Queen cards are a score of 12 points and Kings take 13 points. Quinze shares values of both games.
All three versions of card games are older than Vingt-et-Un and were invented in the 15th and 16th century. Very likely these were influenced by 21, which became popular in 1800. Vingt-et-Un was a trend because earlier games had similar elements in their games. When it comes to rules there is slightly a difference between modern Blackjack and Vingt-et-Un. The dealer's second card is in some cases visible to the players. Normally the dealer decides on his own on what to do next. However, after starting the game the dealer always must follow mandatory rules, where they need over 16 or 17 points or more.
In the 19th century the game couldn't develop in France. However, it became popular in the US and legalized in New Orleans in 1820. During that period there was a fairy tale of Eleanor Dumont who was born in France and immigrated to the United States. She was a talented dealer that was travelling abroad until she was opening a gambling hall in Nevada city. Coincidentally, the place was called Vingt-et-Un. A lot of people from all around the world came to play against her, because she was considered a professional dealer.
The golden era of casinos took place in the 20th century. The game 21, which is nowadays best known as blackjack, has also changed its rules since the change of legislation. The game rules that are defined by the gaming commission of Nevada are still the same nowadays. Around 1950 the first dealers emerged. "Playing Blackjack to win" was a book written by four players in 1957. Basic strategies and other tricks of the trait are mentioned in the book. Afterwards in 1962 Edward O. Thorp responded by publishing the book "Beat the dealer" due to casinos not getting the amount of attention that they needed.
Edward O. Thorp was a mathematician whose work is still considered as the birth of card counting today. He invented a ten-count system which starts with two numbers, then 16 and then 36 numbers. At the beginning of the game, he would count backwards and divide the remaining cards with the remaining 10´s in the deck. In today's game, Blackjack is played with numerous decks which makes the 'Thorp Ratio' overcomplex and impractical to implicate as it was invented during the time where Blackjack was more often played only using a single deck.
Later, new systems where introduced, in 1963 computer scientist Harvey Dubner invented a new system where computers help Blackjack players get out of tricky situations and letting the quickly adapt different strategies. At this time Casinos would have no problem welcoming card counters and even had dealers giving out tips and advice to players.
If you ask New Jersey Supreme Court they´ll tell you that card counting is not a crime. However, in modern times, Casinos do not tolerate card counters. Blackjack Dealers and security personal are highly and efficiently trained to recognize any potential card counters at their tables. It is still possible to implement card counting in today's game, but the individual doing so needs to have a very high level of concentration and intelligence as well as stamina to have any chance of success.
As one of the most popular games in Las Vegas and all around the world, it developed with the internet booming. Online casinos provide a classic version but also varieties of games with different features and rules. Talking about rules, in Saudi Arabia casinos are strictly prohibited, that's the reason why plenty of online platforms were created for players so that they can enjoy the game from home. Have a look at Blackjack casinos that offer the best live experiences. Join a table on the computer or smartphone and play against a trained dealer, who you can see. It's a nice way to feel like being in an actual location and play. You even can tip the dealer!
Going back to the online casino, the player can join the Blackjack session anytime. Different variations are offered to play. Before everything got so high-tech with good quality and sound it used to be a lack of experience. Games were showed in a blurry and poor quality. The experience was not satisfying. 2006 the live experience was invented, and everything became even more realer. It also took a bit time to finally satisfy players, but it did and became very popular. Now you can also be a part of Blackjack parties, where you play against two dealers.
Blackjack or 21 is a card game that will never get out of trend and will always be a timeless classic. Let's play!