There's no denying that blackjack is among the most popular games in every casino. It's so popular that you can play it in different versions, one of which is the

There are occasions when we here at ReadyBetGo want to bring you interesting facts about the gambling industry When something catches our eye, we will publish it for your enjoyment.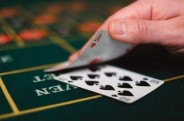 single-deck blackjack.
In single-deck blackjack, players will play using only a single deck of cards, contrary to the classic game played with 6 decks. You'll be playing against the dealer with a goal to draw cards until they add up to 21 (or as close as possible) without busting. You win blackjack if your first two cards total 21.
Single vs multiple-deck blackjack
Blackjack was originally played with only one deck of cards. Card counters enjoy the game so much as they can easily acknowledge how many high-value cards are still on the deck and therefore have a higher edge than the house.
With players having more advantages to the game, casinos began adding more decks to increase the house edge. Thus the conception of the blackjack games with two or more decks.
But aside from the number of decks, do they still have other differences?
Generally, both variants are played the same way. They only differ in strategies, such as when you'll hit, stand, or double down.
While in both games, it's best to split 2-2 and 3-3 if 2-7 face-up is shown by the dealer; you can also split 6-6 in a single deck if the dealer shows 7 and they need to hit on a 17 containing an ace counted as 1 or 11.
You're less likely to get natural in multiple decks blackjack. Natural is when a player's first two cards contain an ace and a 10 card, which counts 21. If a player gets natural while the dealer doesn't, the player automatically wins so the dealer has to pay him/her 1 ½ more than their bet.
Now that you already know some of the differences between the two, time to know how single-deck blackjack is played.
Single-deck blackjack gameplay
Compared to other games like craps, the rules in blackjack are quite easier.
The game on a single-deck blackjack begins with the dealer shuffling the deck, then dealing 2 cards face-up every player. The dealer himself also deals with 2 cards, one facing up and the other facing down.
As the cards are already dealt out, each player takes another card (hit) or stand. Players will keep hitting until they reach or exceed a total of 21. You must stand by 21 and you will no longer lose, while you bust and lose your bet when you exceed 21.
The rules and gameplay are generally the same on all platforms, including online single-deck blackjack.
Strategies
In playing single-deck blackjack, good decision-making topped with an impressive gaming strategy will give you increased chances of winning. Always remember that every card on the deck can make a great impact on the distribution of the remaining cards and the results of the game. Hence, you should pay attention to the cards played.
Hitting
Hitting is important in single-deck black as much as it is for more decks of cards. That means players should Hit on most pairs aside from the numbers 8, 9, 10, and as well as aces, or for some instances when they need to depend on the dealer's hand. A player should also Hit for soft hands besides A 8, A 9, and A 10. Meanwhile, a player should Hit for most cards for the hard hands except for 17-21, though it may depend on what the dealer will show.
Doubling
Doubling is another way to improve your single-deck blackjack gaming. It is practiced in different circumstances and hands, but the most common is after identifying the dealer's hand. Say a player gets 5-5 pairs while the dealer has 2-9, that's when doubling is the right decision to make.
Standing
Standing can also be a good strategy for any single-deck blackjack player. A player must Stand on the soft hands A 9 and A 10, as well as on the hard hand of 17-21. Say there's a 10-10 pair, to Stand is a very good strategy for that. The same also applies if the player has A 7 while the dealer is showing 3-6, it's advisable for the player to stand on 2, 7, and 8.
Surrendering
While it's not always allowed to surrender on all blackjack games, you should know when to or not to if the option is available. It means you forfeit your hand and get half of your bet back without needing to compare hands with the dealer.
Surrendering in a single-deck card is generally a bad idea as it strips your chances of winning.
Now that you've already learned those tips on playing single-deck blackjack, your gameplay and strategies should improve even if you're still a beginner. Always remember those tips above and enjoy winning against the house!