Blackjack is one of the most popular games to play in the casino. Part of its popularity comes from its fast-paced action, but another reason is that it has one of the lowest house edges in the casino.

There are occasions when we here at ReadyBetGo want to bring you interesting facts about the gambling industry When something catches our eye, we will publish it for your enjoyment.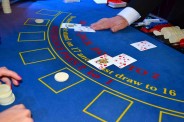 If you can play the basic blackjack strategy perfectly, you can reduce the house edge to less than 0.5%. When the house edge is this low, your bankroll is likely to last a lot longer, meaning you get to have more fun playing blackjack! However, the
basic strategy is hard to remember, and many people make mistakes when they sit down to play
We'll look at the most common mistakes people make so you don't fall into the same traps when you play.
Playing at a 6:5 Blackjack Table
This is a mistake that players make before they've even played a hand! A 6:5 blackjack table is not favourable for the player, as it results in a lower payout when you make a blackjack. The casino deliberately chooses odds like 6:5, as it looks higher than 3:2, whereas 3:2 actually gives you a higher payout. If you were to bet $100 on a hand at both tables, if you made a blackjack at the 6:5 table, you would make $120, and if you made a blackjack at the 3:2 table, you would make $150. That's a $30 difference in just one hand! Imagine how much that adds up over a few hours of play. These deceptive tables are offered all over the world, whether you're at your local casino or playing online from all over the world. Online blackjack is just as popular online as it is in casinos all over the world, but online you get access to a range of other games, such as online keno, online craps, and pai gow poker. Live dealer games are also available at the best online casinos, providing you with a fully immersive casino experience. However, if you're playing from an Arabic country, we recommend connecting with a VPN to stay secure and bypass any ISP restrictions. These online casinos will also have bonuses that make playing on their site more attractive, including deposit bonuses, free spins, and high roller bonuses. Wherever you're playing from, always look for the blackjack table with the best odds; it could be the difference between walking away as a loser and walking away as a winner.
Standing on hard 16 when the dealer shows a 7 or above
While a 16 looks like a strong hand in blackjack, it's actually not very good at all. Against a dealer showing a 7 or higher, you'll lose 74% when you stand, and the math shows that taking a card with 16 against a 7 is actually the more profitable play. While it can seem scary to take a card when your total is so high, it's something you have to do if you want to play the perfect basic strategy. The truth is, you're just going to lose a lot of the time when you're dealt this hand. If you take a card as you're mathematically supposed to do, you're going to bust around 60% of the time, so it's almost a no-win situation. If you're dealt this hand when you're playing, mentally write it off as a loss before taking a card - that way, you're prepared for the inevitable pain when you bust or when the dealer makes a higher total.
Taking insurance
A lot of recreational players like to take insurance when offered, as it gives them something back if the dealer has a blackjack, but they can still win the hand even if they lose the insurance bet. Most places offer insurance at 2-1 if the dealer is showing an ace, which may sound like a good deal, but it actually isn't. Let's take a look at the math. When the dealer is showing an ace, 16 cards can improve them to a blackjack. However, 36 cards aren't a ten and won't improve them to blackjack. If we remove the dealer's ace, that's 35 cards, and even if your two cards don't contain a ten, the odds are still 33 losses to 16 wins. This roughly works out to 8.25 to 4, which are not profitable odds if you're getting paid 2-1. Remember, this is the best-case scenario where there's only one deck of cards, and we don't have a ten showing! If it's a regular 6-8 deck game, the odds get a lot closer to 9-4, which further increases the casino's edge. Don't be a sucker; never take the insurance bet.