A new blackjack player will find that there are plenty of places where they can play this highly popular casino game, and with plenty of bonuses on offer that can help them make the most of their visits

There are occasions when we here at ReadyBetGo want to bring you interesting facts about the gambling industry When something catches our eye, we will publish it for your enjoyment.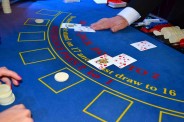 to the blackjack table. On its face, blackjack is an exceptionally simple game: each player is dealt two cards, and if they're the right cards, the game may not even go any further than that. Compared to poker, it may not seem like there's any room for strategy. It would be a mistake to think that that is really the case, though.
There are very few games you can play at a casino that don't involve some element of strategy, whether it's in how you play the game itself, or how you bet on it. While the received wisdom about casino games is that they are all about luck, that's not a reason to just randomly mash buttons and hope that the fates are in your corner. Playing online casino games, and especially blackjack, can be very rewarding if you know what you're doing, and if you avoid the following errors which can blight anyone's online blackjack game.
Doubling bets just because you can
You can double down in blackjack if you like the look of your cards and think the dealer is going to have a hard time winning, but just because you can, that doesn't mean you should. In any casino where you can play live blackjack online, there are three main cases where you should double down. These are: when you have hard nine and the dealer's face-up card is between two and six (inclusive); when you have hard ten or eleven and the dealer's card is lower than your hand; and when you have soft 16-18 inclusive and the dealer is anywhere from two to six. In these cases, the odds are massively in your favor and it's worth doubling down. Otherwise, keep your powder dry.
Counting cards (or trying to) It's not illegal to count cards in a real-life casino, but it is frowned upon and you'll usually be ejected if you're caught doing it. The reason for this is that it can be quite effective, and this may have set you off thinking that you could do it at an online casino where there are no dealers looking out for it. Let's save you the bother: it doesn't work. The software in an online casino is designed to automate the dealing process and remove any advantage from counting cards. All you will do is distract yourself from playing the game properly - and for no benefit whatsoever.
Hitting on soft 17 17 is an awkward place to be on the blackjack table. There are four different scores that can beat it, and if it's a soft 17 the temptation will be to hit. Here's why you shouldn't do that: Sure, it's a soft 17, which means it could be a 7. If you hit, the absolute best you can do is another Ace, which makes it a still-beatable 18. More likely, you end up with a lower score, needing to hit again without the fallback of it being "soft". Stick at 17, instead, because whatever the dealer is showing he's still going to need the luck to beat you and may go bust in the effort.
Placing an insurance bet The insurance bet is there to allow you to break even in the event that the dealer has blackjack. It's a complete waste, because it's an extra bet predicated on the unlikely event that the dealer's face-down card is either an Ace or a 10-value card. Sometimes the dealer will have blackjack, which is unfortunate. More often, they won't, and you'll have paid for insurance that you didn't need and which will give you nothing. Blackjack insurance is a gimmick - it's there to make you feel like you're being prudent, but all you're doing, in the long run, is lining the casino's pockets.
If you play blackjack smartly, you can end up with an increased bankroll and a more enjoyable casino experience. If you make the mistakes above, you'll simply diminish the fun.