All casino games will have a history behind them, many like poker have a rich history that is so extensive it is hard to track.
Blackjack's history is a little easier to track, however, the game

There are occasions when we here at ReadyBetGo want to bring you interesting facts about the gambling industry When something catches our eye, we will publish it for your enjoyment.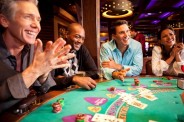 is infamous and one of the easiest casino games to play out there. It does not require strategy, although strategy helps. The rules are simple, and it is a great game to play as a beginner on the casino floor.
About Blackjack
So, what is there to know about blackjack? Well, we have put together 10 facts that you just need to know.
We have some facts that are useful as tips, and some information that is just plain fascinating! Let's get to it!
Rules Can Favor You Or The Dealer
The house rules for blackjack can benefit you or the dealer, it depends on the rules. Naturally we tend to think that the rules will always benefit the house, but this is not always the case.
Let's look at the rules that may be in place that will benefit the dealer first;
Dealer must hit on soft 17.
You can only split it into 2 or 3 hands.
You can only double on 9 or 11 or worse.
You cannot double once you have split
You cannot surrender
Pays 6-5 or worse.
What about the rules that may be in place that benefit you, the player? Here are some;
Pays 3-2 or better
You can split Aces 4x
You can double after splits
You can double any 2 of the same
You can surrender
Fewer decks
Dealers must stand on soft 17.
Realistically there are no good rules, but the rules that can benefit you are worth keeping an eye open for.
House Edge Is Affected By Strategy
If you have a good strategy up your sleeve when you play, you can cut the house edge down by as much as half!
It all depends on your strategy though, although, with blackjack the best strategy is simply knowing the best play for your hand, and knowing how to best play your moves.
Card Counting Is Not Actually Illegal
Card counting is not actually illegal, although you may think it is, it is just frowned upon.
It is not an easy thing to do anyway, and if you get caught counting cards, you will likely be removed from the establishment or banned from playing there.
Insurance Bets Are A Bad Idea
Insurance bets are just not a good idea unless you are an expert card count and the cards look to be in your favor.
This bet actually has nothing to do with your hand. You are just betting if the dealer's down card is a 10/ face card.
It doesn't break even most of the time. It is a great way to lose money.
Some Dealers Might Help You
Dealers may help you, if they have an Ace and check their down card. They may offer insurance, if they offer it quickly they are likely to not have blackjack. However, they may pause longer and offer it when they do have a 10/face card.
Avoid The Martingale System
The martingale system is the idea to double your bet when you lose. You can lose an incredible amount of money this way. You will lose many hands in a row at some point, and doing this can make you lose everything and more!
The 'Shoe' is the name of the card dispenser. When cards are dealt from this, there are two cut cards. One will say it is time to shuffle, and another will make sure players don't see the last card in the shoe.
These trays are red and translucent, they attempt to thwart cheats who mark cards with ink. While most of us can't see marks, security personnel with tinted glasses can with this tray.
Blackjack got its name from the original game, 'Vingt-et-Un' which is French for '21'. Casinos offered a bonus if your winning hand had a black jack, and thus the name was born!
Going All In Is A Bad Idea
As tempting as it is, never go all in. Leave enough money to split your hand or double. There are no more painful options in blackjack than getting 2 Aces and not having enough cash to split, and then hitting for 2 face cards and going bust.
Keep some money aside ready. You never know when you will need it. It's blackjack, not poker!