Casino Tropez Blackjack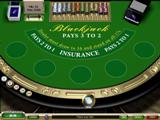 Casino Tropez is an excellent choice for players who want to play blackjack against a low house edge. Regular blackjack, with a 0.52% edge, is offered, but for even a better deal, go with Blackjack Surrender where the edge is only 0.48% using basic strategy. You can play up to an amazing 5 hands per round at either game. Casino Tropez also has the entertaining Blackjack Switch and old-time favorite, Pontoon. For great blackjack action, we recommended Casino Tropez.

World Series of Blackjack
Learn all about the new format, see who's playing and find out when the show is on at GSN's official World Series of Blackjack page.
LAS VEGAS – As reported by Las Vegas Sun: "Cable network GSN will tape its fourth World Series of Blackjack program beginning Saturday at the Las Vegas Hilton, with the finals scheduled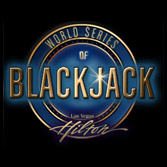 World Series of Blackjack Season Four underway. for Tuesday at the Hilton Theater (home of Barry Manilow).
"Spectators at the taping will be limited to family and friends of the participants, with the new season of shows scheduled to begin airing in June, a GSN spokesman said.
"The 13-episode third season of the World Series of Blackjack last year on GSN was also filmed at the Hilton. It featured 40 players competing for a $500,000 top prize.
"The Ultimate Blackjack Tour, a blackjack tournament circuit founded by 1994 World Series of Poker champion Russ Hamilton, will conduct its first open 'elimination-style' competition on the Strip at the Venetian in July.
"The UBT made its debut on CBS (KLAS Channel 8) last fall. In the elimination format, the player with the smallest stack of chips is knocked out of the tournament at various predetermined intervals, a twist that requires shifts in the competitors' tournament strategy. The World Series of Blackjack uses a modified version of the elimination format."