Club USA Casino Blackjack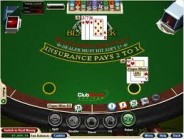 Club USA Casino Blackjack is the best bet for practicing blackjack basic strategy without stress and distractions. The game comes in both free play and real money modes and you can play up to three hands on your own table. The rules are favorable and with a house edge of only 0.71%, better than many casinos. The table minimum is $1 per hand and the maximum is $500.
RIVERTON, Wyoming -- As reported by the Associated Press: The Wind River Casino is working to meet numerous regulations so it can start offering high-stakes blackjack, general manager Jim Conrad said.
The


Wind River Casino will soon be offering blackjack.
casino has blackjack dealers ready to man the tables, but regulations for lighting and security cameras and other requirements were delaying the process, Conrad said.
Conrad did not have a time frame for when the casino will be able to meet all the regulations and start the card games.
The casino now offers slot machines and electronic bingo.

The casino currently nets about $3 million a year for the Northern Arapaho Tribe, and earnings are expected to increase when the blackjack tables open, according to tribal officials. Money earned from the casino helps run various tribal social welfare programs.

The tribe won the right to operate Las Vegas-style gambling last year after a long court battle with the state.
Wind River Casino
10369 Highway 798
Riverton, WY
Toll Free Phone: (866) 657-1604
Website: www.windrivercasino.com

The Wind River Casino has over 400 slot machines and will have blackjack in the near future.