Club USA Casino Blackjack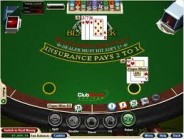 Club USA Casino Blackjack is the best bet for practicing blackjack basic strategy without stress and distractions. The game comes in both free play and real money modes and you can play up to three hands on your own table. The rules are favorable and with a house edge of only 0.71%, better than many casinos. The table minimum is $1 per hand and the maximum is $500.
CALIFORNIA -- Plays like Vegas, Pays like Vegas but Pure Blackjack is Pure L.A. Style. With gas prices soaring, the Normandie Casino has introduced this new and exciting game that is being played by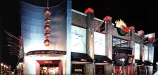 Normandie Casino major Las Vegas Casinos. Why drive 300 miles spending your dollars on gas? Pure 21 Blackjack was officially launched Friday June 10th, 2006 to a large crowd of excited players. "It's Blackjack without Jokers or Wild Cards which in turn makes it easier for both the novice and seasoned players alike to enjoy," as stated by casino owner, Steve Miller.
The Normandie Casino offers two variations of Blackjack, Pure 21 Blackjack and Blackjack Jackpot which is played with Jokers. "We are proud to offer both types of Blackjack to our players, we want them to know that here at the Normandie Casino, they have a choice," casino manager Karlo Deza added. "The number one factor that makes Pure 21 Blackjack the game to play is the 3 to 2 Blackjack pay-off; no other casino in Los Angeles is paying these odds."
Other innovative games recently offered at the Normandie Casino are; Baccarat, Card Craps, Caribbean Stud and Three Card Poker which pays up to 200 to 1.
Poker is also no stranger to Southern California's oldest Casino -- No limit Texas hold-em, 7 Card Stud, and Low ball along with other card games are also being offered at the Normandie Casino.
Normandie Casino
1045 West Rosecrans Avenue
Gardena, CA 90247-2601
Toll Free Phone: (800) 9-Winner
Website: www.normandiecasino.com

The Normandie Casino offers poker games like Texas Hold-em, Omaha high/low, Seven card stud or Lowball and many poker progressive jackpots. The Asian section offers progressive jackpots on all Blackjack, Pai-gow Poker, Pan 9, Pai-gow Tiles and Caribbean Stud games.