Consolidated Resorts, Inc. and CEO
Ken Einiger
of Play To Win Inc. have just inked a major deal to effectively promote vacation ownership and tourism in Las Vegas, Nevada. Mr. Einiger has been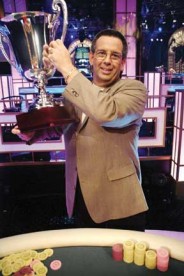 Ken Einiger, the winner of the 2005 World Series of Blackjack
selected to act as a celebrity spokesperson for Consolidated Resorts Inc. and is certainly in notable company. Other Consolidated Resorts celebrities have included Alan Thicke, Tanya Roberts, George Wallace and David Faustino. "This is a remarkable opportunity," Einiger says with a boastful grin, "Consolidated Resorts has always maintained a commitment to no less than first class accommodations; they are undeniably a cut above the rest. I really look forward to being a part of this amazing team."
While Sin City is often recognized for its rather unparalleled brand of adult entertainment, let's face it— the most luxurious yet affordable timeshares don't emerge up high from the landscape, jarring your eyesight— instead, they blend rather beautifully into their surroundings, quietly whispering "world class" to those of us with an ear finely tuned in to the impressive … and nothing less than this will ever satiate that brand of enhanced vision. "I'm proud to endorse Consolidated Resorts, Inc.," Einiger continues, "There is no substitute for integrity and complete customer satisfaction and in Las Vegas Consolidated Resorts defines that."
About Consolidated Resorts, Inc.
Privately held Consolidated Resorts was founded in 1982 by Arthur Spector and is currently chaired by Michael Kaplan. The company is headquartered in Las Vegas, Nevada, and has nearly 100,000 owners at its resorts in Las Vegas and on the Hawaiian Islands. Within the travel and tourism industry, the growing benefits of vacation ownership have sparked a significant change in how people travel for leisure. With its proven advantages in cost-savings, overall comfort, and the peace of mind in knowing what you can expect, vacation ownership with Consolidated Resorts is reinventing the rules of how luxury vacationing works.
About Play To Win, Inc.
Play To Win, Inc. is a fast-paced cutting edge company dedicated to the philosophy, application and promotion of
professional blackjack
tournament play. Ken Einiger, a featured player on the CBS Television Show, The
Ultimate Blackjack Tour
, has been playing tournament blackjack for well over 15 years. In 2005, he won his very first World Series of Blackjack. In 2006 he won the Legends Blackjack Championship against 6 of the World's Best Blackjack players and holds 2 UBT Gold Medallions. He recently authored the book Play to Win. Currently, Einiger is involved in numerous projects including a major television deal with the Ultimate Blackjack Tour and a Blackjack Boot Camp for celebrities and high-rollers. As the epitome of gambling's resounding champions, Ken Einiger often hears his name chanted openly in casinos throughout the country.