Smarter Bet Guide to Blackjack
by Basil Nestor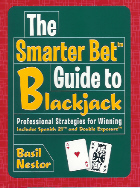 Strategy is the key to success at the blackjack table; that's a mathematical fact, and you can count on these expert, easy-to-learn tactics to make you a victor. Here's the deal: everything begins with the basic rules, and they're laid out on these pages with smart little "factoid" tips. Go through blackjack economics, which explain why cards fall the way they do, and what makes a good (and a sucker) bet. Easy-to-follow tables suggest strategies for splitting pairs and soft hands and provide dozens of other statistics and card probabilities.
LAS VEGAS -- Casino Gaming, the exclusive distributor of the new Blackjack betting option Casino Surrender, recently signed a national agreement with a subsidiary of Harrah's Entertainment, the largest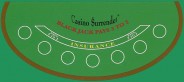 Casino Surrender is a new betting option available in many Harrah's casinos. gaming conglomerate in the world.
The game debuted in Las Vegas last year and can now be found at a number of prestigious casinos in Las Vegas as well as other cities in Nevada. Casino Surrender stretches beyond Southern Nevada and is currently in play in Indiana as well. The addition of the national agreement with Harrah's Entertainment will provide a growth spurt to the already popular game.
"Harrah's is pleased to offer this innovative new option as an addition to its traditional blackjack table games. Casino Surrender gives the player the option of accepting a payout of half of his wager if dealt a 20 and the dealer's up card is a 10 without Blackjack. This option is only given to the player before play begins on the hand, and it's entirely up to the player whether to take this option," said Chris Block, director of table games for Harrah's. "Because Casino Surrender gives players this option without slowing down the game of traditional Blackjack, we believe Casino Surrender will enhance the experience of Blackjack players at Harrah's casinos."
Casino Surrender is a winning option for the player that does not change the traditional rules of blackjack. When specific scenarios are met, the player can force the casino to surrender and become an automatic winner. Casino Gaming, LLC, the company that developed and researched this Blackjack winning option, runs under the direction of company President, Frank Mugnolo. The company is headquartered at 1023 Cernan Drive in Bellwood, Illinois 60104. For more information on Casino Surrender, please contact Casino Gaming, LLC at (708) 547-5555 or visit the Web site www.casinosurrender.com.