Club USA Casino Blackjack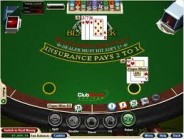 Club USA Casino Blackjack is the best bet for practicing blackjack basic strategy without stress and distractions. The game comes in both free play and real money modes and you can play up to three hands on your own table. The rules are favorable and with a house edge of only 0.71%, better than many casinos. The table minimum is $1 per hand and the maximum is $500.
Casino Tropez Blackjack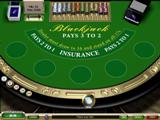 Casino Tropez is an excellent choice for players who want to play blackjack against a low house edge. Regular blackjack, with a 0.52% edge, is offered, but for even a better deal, go with Blackjack Surrender where the edge is only 0.48% using basic strategy. You can play up to an amazing 5 hands per round at either game. Casino Tropez also has the entertaining Blackjack Switch and old-time favorite, Pontoon. For great blackjack action, we recommended Casino Tropez.
LAS VEGAS -- It's been one free tournament after another at Aces.com this month, and their popular Free Blackjack Tournaments continue this Sunday. The action begins at 12:01 midnight with tournament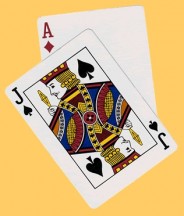 Blackjack Hand
play all day Sunday. The players with the highest chip counts by Sunday midnight win cash bonus prizes.
Aces.com's Blackjack is one of three new instant-play Flash games recently added to the totally re-designed site.
"There are lots of Hold'Em tournaments out there, but not too many free blackjack events," said Quesada. "Blackjack is one of the most popular games in our casino, so we thought we'd add some excitement by organizing free tournaments."
"In Blackjack, you usually just play against the dealer," said Frank B. who won a free Blackjack Tournament earlier this month. "But when you're in a tournament, you're playing against the other chip leaders for that big bonus prize. You can't retire on $200, but it sure makes the game a whole lot more exciting!"

Like their Las Vegas counterparts -- the hotel casinos on the Strip -- Aces.com understands how much players love tournaments. Earlier this month they awarded an all expense paid trip to Hollywood for their Aces the Movie DVD Release Party to the winner of a week long Three Card Poker Tournament. (That tournament was also free to enter.) And every Wednesday night they host their popular Free Roll Texas Hold'Em Tournament. Winners of those tournaments this month have also won VIP Prize Packages to attend the Aces Hollywood Movie Premiere October 7th,

Aces.com's Hollywood Movie Premiere celebrates the DVD release of the sexy new poker movie that they've sponsored and promoted all summer long. New players receive free copies of the movie and hundreds of Los Angeles area Aces.com players have been invited to the star-studded gala.

The Aces.com Blackjack Tournament this weekend is free to enter, but players need to register here to start accumulating chips for their tournament total: www.aces.com/casino/tournament.php. The player with the highest chip count wins $200; the runner-up wins $100 and the third place player gets $50. Ten randomly selected players registered in the tournament will get $10 added to their account.

Aces.com offers online gamblers every gambling option they'd find in Las Vegas: casino games, poker, horse racing and sportsbetting.