WEST VIRGINIA – As reported by the Pittsburgh Post Gazette: "The West Virginia House of Delegates yesterday passed legislation that could add table games such as blackjack and roulette to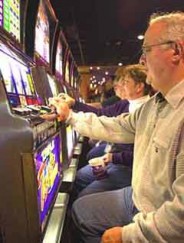 Slot players at Charles Town Races & Slots may soon be joined by blackjack and roulette fans. slots parlors at racetracks.
"The bill, which passed 53-40, now heads to the Senate, where gambling foes will try again to derail it.
"'We've only finished the first quarter,' West Virginia Racing Association President John Cavacini said after the vote. 'But it's extremely gratifying that the House has chosen to address this bill this year.'
"House Bill 2718 would let citizens in the four racetrack counties -- Hancock, Jefferson, Kanawha and Ohio -- vote on permitting table games.
"Supporters argue that table games will bring more and better-paying jobs to each track.
"The West Virginia tracks contend that table games would give them an edge over emerging competitors. Slot machine casinos began opening in Pennsylvania late last year. Maryland and Ohio have also debated legalizing slots.