HOLLYWOOD --Imagine being a new recruit on the infamous M.I.T. blackjack team and learning how they legally won millions from casinos by counting cards. With the release of "Beating Blackjack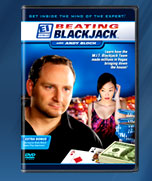 Beating Blackjack with Andy Bloch DVD now available.
with Andy Bloch" -- the new DVD from Expert Insight -- imagination becomes reality. Andy Bloch, a former manager of the team and a poker celebrity in his own right, teaches the main strategies and tactics used by the M.I.T. blackjack team.
As with EI's acclaimed first title "Final Table Poker with Phil Gordon," the viewer will "get inside the mind of the expert," hearing what Bloch is thinking as he and his team make winning decisions in a fictional casino. This DVD covers everything from basic strategy and counting, to bet spreading, camouflage, and team play. In "Beating Blackjack" the viewer experiences the excitement, drama, and tension as Bloch plays against the house.
"Although I can see why '
Bringing Down the House
,' Ben Mezrich's book about the M.I.T. team's exploits, was a best seller, the book didn't go far enough," Bloch said. "With this DVD I wanted to go on record and teach people that you can still win at blackjack, and you don't have to be a genius or a math whiz. With card counting and camouflaged team play, you can swing the advantage from the house to yourself!" Bloch was also quick to add, "What I teach in my DVD is completely legal. Even the Supreme Court of Nevada has upheld the legality of blackjack card counting and camouflage."
Expert Insight's Founder and CEO, Phil Gordon, says, "We are extremely excited about our second title. We're very pleased that 'Beating Blackjack' is already producing winners, and we look forward to hearing many more success stories. We deeply believe that our experiential, 'inside the mind' teaching approach is the best way to educate and engage our viewers. The Expert Insight philosophy applies perfectly to almost any category of instruction: poker, golf (due Summer 2006), sports, video games, self defense, Nutrition & Health, and countless more."
Andy Bloch is a former member and manager of the
M.I.T. Blackjack Team
, featured in the New York Times best seller, "Bringing Down the House" (Mezrich.) He earned a Bachelor's and a Master's degree in engineering from M.I.T. and law degree from Harvard University. His celebrity in conjunction with the M.I.T. Blackjack Team has been featured in the documentary "The Hot Shoe"(2003), Fox's "The Casino" (2004), the BBC Horizon show "Making Millions the Easy Way" (2005), and GSN's recent expose "Anything to Win" (2006). Bloch is also ranked among the top professional poker players in the world with two final table finishes at the World Series of Poker and his 2005 win at the Ultimate Poker Challenge II championship event. Only Andy knows how much he has won so far playing blackjack.
Expert Insight is an innovative educational media company that connects people with the world's leading experts through products that are experiential, entertaining, and engaging. Founded in 2005, their mission is to enrich the lives of their customers by expanding their knowledge and improving their abilities. EI's flagship products are company-produced DVDs, which bring the viewer "inside the mind" of the expert while they play their craft. By combining groundbreaking teaching methodology with cinematic techniques, EI delivers the most engaging educational content on the market. In addition to instructional DVDs, EI is expanding the brand to include premium web-based instruction and content on ExpertInsight.com; the Expert Insight Speaker's Series; Expert Insight Books & CDs; and the Expert Insight Store.
For more information about Expert Insight, the experts, or to purchase the DVD, go to