GIBRALTAR -- 38-year-old Tucker Keeling from Bixby, Oklahoma, won the inaugural $250,000 PartyCasino.com World BlackJack Championship on board the PartyPoker.com Million V in the Caribbean last week.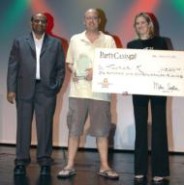 Tucker Keeling - winner of the World Blackjack Championship Tucker took home $113,000 but has suffered from ALS, a motor neurone disease, for five years. In 2001 he was given between two and five years to live. He credits his good luck charm - a little Buddha statue - with bringing him the luck to win the tournament.
"I suppose I've beaten the odds in more ways than one," said Tucker. "I've been beating the odds for five years, I'm delighted to win. My illness meant I had to quit work some time ago."
"I had a serious amount of luck in the tournament. Even going into the last hand I didn't think I was going to win but I hit 20, which proved to be enough. In the semi- finals, I only won by $25 after betting all my chips and catching BlackJack. It was one hell of a ride."
Tucker certainly knows his BlackJack. He dealt cards in Vegas for 12 years. He qualified for the tournament online through a raffle on PartyPoker.com. He also tried to qualify for the main $5 million limit hold'em poker event but didn't get through the special satellite qualifier on the first Sunday of the cruise.
"My little Buddha statue brought me great luck. I'd have him sat at the table by my cards. In the first round I nearly went out but I didn't have him with me then. In every other round I had the statue sitting there bringing me good fortune."
Tucker is married to Lori, 32, a pit manager of a casino in Oklahoma, who works while Tucker rests at home and she was delighted by the win. "It is really great news, he really deserves it," she said. As for the money, Tucker is no doubt about what he's going to do with it, "I'm going to enjoy it," he added.
A PartyCasino.com spokesman said: "Tucker's story is inspirational. We are both glad and sad for him at the same time. There couldn't have been a better winner."