The 2013 American Casino Guide
by Steve Bourie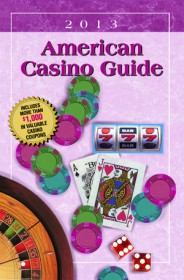 The American Casino Guide has been published annually since 1992 and is the most comprehensive book available for information on all U.S. casinos including all casino/resorts, riverboats and Indian casinos.

The new 2013 edition includes detailed information on more than 700 casinos in 40 states, plus it includes 203 coupons valued at more than $1,000! The coupons can be used now in 2012 and are valid until late December 2013.
Read a review of The 2013 American Casino Guide
The Joy of Six Slot simulates craps action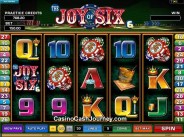 Microgaming's video slot release The Joy of Six allows players the chance to experience the excitement of the enthralling game of craps. Based in a casino environment, the five-reel, 30-payline slot lets players throw the dice in a vibrant world of vivid graphics, craps animations and distinctive sound effects. The large variety of features within the game gives players many opportunities to profit from an enjoyable experience.
If you have no desire to get quite that serious about
learning video poker
then I'll try to provide some general tips to help you out. First, you'll need to find the machines that

Steve Bourie is the author of the American Casino Guide, the most comprehensive publication available for information on any U.S. casino/resort, riverboat or Indian casino. His guide has been published annually since 1992 and is now the biggest selling book in the U.S. on the subject of casino gambling. Steve's website is www.americancasinoguide.com
offer you the highest returns. One of the best is the
9/6 Jacks or Better
machine. Of course, you're probably wondering "what exactly is a 9/6 Jacks or Better machine?" Well, the Jacks or Better part refers to the fact that you won't win anything from the machine unless you have at least a pair of Jacks. The 9/6 part refers to the
payback schedule
on this kind of machine. As stated earlier, each machine can have a different payback schedule and there are at least 20 different kinds of payback schedules available on Jacks or Better machines. In Las Vegas the two most common Jacks or Better machines you will find are 8/5 and 9/6. Here's a comparison of their pay schedules (per coin, for five-coin play):
| | | |
| --- | --- | --- |
| Hand | 9/6 | 8/5 |
| Royal Flush | 800 | 800 |
| Straight Flush | 50 | 50 |
| 4-of-a-Kind | 25 | 25 |
| Full House | 9 | 8 |
| Flush | 6 | 5 |
| Straight | 4 | 4 |
| 3-of-a-Kind | 3 | 3 |
| Two Pairs | 2 | 2 |
| Pair of Jacks or Better | 1 | 1 |

As you can see, the schedules are identical except for the better payoffs on the 9/6 machines for Flushes and Full Houses. The payback on a 9/6 machine is 99.5% with perfect play, while the 8/5 machines return 97.3% with perfect play. Of course, it doesn't make any sense to play an 8/5 machine if a 9/6 machine is available. Yet, in Las Vegas you'll see lots of people playing an 8/5 when a 9/6 can often be found in the same casino. The reason they do that is because they don't know any better; you do. Always look for the 9/6 machines. They can be found in every downtown Las Vegas casino and most, but not all, strip casinos. In other states, including New Jersey, they won't be found as easily. On a trip to Mississippi I found a few, but it took some searching and not every casino had them. If you can't find one be sure to double check with the Slot Host to see if they're offered.
One other common machine you will come across is an 8/5
Jacks or Better progressive
. These feature the same 8/5 pay table as above except for the royal flush which pays a jackpot amount that is displayed on a meter above the machine. The jackpot will continue to build until someone hits a royal flush; then it will reset and start to build again. If the jackpot on a 25¢ machine is above $2,240 (for five coins) then you should play it. If it's below $2,240 then stick to the regular 9/6 machines.
Another good tip is to restrict your play to the same kind of machine all the time. Each video poker machine has its own particular strategy and what works best on a Jacks or Better machine is definitely much different from what works best on a
Deuces Wild
machine. I only play 9/6 Jacks or Better machines because that is what I practice on and I automatically know the best decision to make all the time. Keep in mind that when you calculate the payback percentage for a video poker machine the number you arrive at is based on perfect play. As an example, a 9/6 Jacks or Better video poker machine has a 99.5 percent payback with perfect play. This means that, theoretically, it will return $99.50 for every $100 played in the machine, but only if the player makes the correct decision every time. If you make mistakes, and most players do, the return to the casino will be higher. If you play several different kinds of machines it becomes increasingly harder to remember the correct play to make and you will make mistakes. Therefore, it only makes sense to memorize the correct decisions for one kind of machine and to always play on that same kind of machine (of course, in order to learn those proper strategies, you may want to buy that book or software).