The 2013 American Casino Guide
by Steve Bourie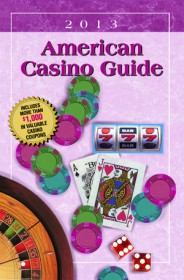 The American Casino Guide has been published annually since 1992 and is the most comprehensive book available for information on all U.S. casinos including all casino/resorts, riverboats and Indian casinos.

The new 2013 edition includes detailed information on more than 700 casinos in 40 states, plus it includes 203 coupons valued at more than $1,000! The coupons can be used now in 2012 and are valid until late December 2013.
Read a review of The 2013 American Casino Guide
Great Video Poker at Club USA Casino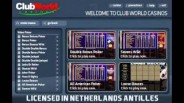 Club USA Casino offers a huge variety of video poker machines in a range of denominations. There over 14 different video poker games including Deuces Wild, All American Poker, Jacks or Better, Joker Poker and more. Many are available in multihand video poker format. Coin-in choices range from $.05 to $5.00 on single hand machines and $.01 to $1.00 on multi-hand machines.
The next bit of advice concerns how many coins you should bet. On a machine with a 100% or more return you should always bet the maximum amount because it will allow you to earn bonus coins when you

Steve Bourie is the author of the American Casino Guide, the most comprehensive publication available for information on any U.S. casino/resort, riverboat or Indian casino. His guide has been published annually since 1992 and is now the biggest selling book in the U.S. on the subject of casino gambling. Steve's website is www.americancasinoguide.com
hit the royal flush. Example: For a royal flush on a 9/6 machine with one coin played you receive 250 coins; for two coins you get 500; for three coins you get 750; for four coins you get 1,000 and for five (maximum) coins you get 4,000 coins. This translates into a bonus of 2,750 coins! A royal flush can be expected once every 40,400 hands on a 9/6 machine; once every 40,200 hands on an 8/5 machine; and once every 32,700 hands on an 8/5 progressive. The odds are high, but the added bonus makes it worthwhile. If you can't afford to play the maximum coins on a positive machine then move down to a lower denomination machine. And, if you absolutely insist on playing less than the maximum, be sure to play only one coin at a time. It doesn't make any sense to play two, three or four coins, because you still won't be eligible for the bonus.
One important thing to keep in mind when you look at the total payback on these video poker machines is that those numbers always include a royal flush and the royal flush plays a very big factor in the total return. As a matter of fact, the royal flush is such a big factor on video poker machines that you are actually expected to lose until you get that royal flush. Yes, even by restricting your play to video poker machines with a more than 100% payback you are still expected to lose money until you hit a royal flush. Once you hit that royal flush it will bring your cash back up to that 100% level but until it happens you should be fully aware that you are statistically expected to lose money.
According to video poker expert
Bob Dancer
, "on a 25¢
9/6 Jacks or Better
machine you will lose at a rate of 2.5% while you are waiting for the royal to happen. Another way to look at this is quarter players who play 600 hands per hour can expect to lose about $18.75 per hour, on average, on any hour they do not hit a royal." You really have to keep in mind that there are no guarantees when you play video poker. Yes, you are expected to get a royal flush about once every 40,000 hands but there are no guarantees that it will happen and if you don't get that royal flush it could cost you dearly.
A final tip about playing video poker concerns
slot clubs
. Every major casino has a slot club and you should make it a point to join the slot club before you insert your first coin. It doesn't cost anything to join and as a member you will have the opportunity to earn
complimentaries
from the casinos in the form of cash, food, shows, drinks, rooms or other "freebies." When you join the club you'll be issued a card (similar to a credit card) that you insert in the machine before you start to play and it will track how much you bet, as well as how long you play. Naturally, the more money you gamble, the more freebies you'll earn. Just make sure you don't get carried away and bet more than you're comfortable with just to earn some extra comps. Ideally, you want to get comps for gambling that you were going to do anyway and not be pressured into betting more than you had planned. Many clubs will also give you cash back for your play and that amount should be added into the payback percentage on the kind of machine you'll be playing. For example: at Treasure Island in Las Vegas, the slot club rebates .67% in cash for your video poker play. By only playing 9/6 Jacks or Better machines with a return of 99.54% you can add the .67% rebate to get an adjusted figure of 100.21%. This means that you are, theoretically, playing at a game where you have a slight advantage,
plus
you're still eligible for other room and food discounts on top of your cash rebate.
If you've tried, you know it's getting a little harder to find the 9/6 machines in Las Vegas. Many of them have been replaced by new machines called
Bonus Poker
,
Double Bonus Poker
,
Double Double Bonus Poker
or
Triple Bonus Poker
. Casinos are always introducing new machines and these particular ones are now very popular. The perfect strategy for these machines is much more complicated and the two strategy tables in this book don't apply to them. If you have a computer you can use the
Stanford Wong Video Poker
or the
Bob Dancer Presents Win Poker
programs to practice the strategy for the newer machines. Otherwise, keep an eye out for the 9/6, full pay deuces wild or 10/7 double bonus machines. They're harder to find but they're still out there - especially in the numerous "locals" casinos.