The Joy of Six Slot simulates craps action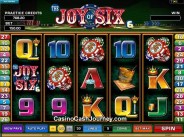 Microgaming's video slot release The Joy of Six allows players the chance to experience the excitement of the enthralling game of craps. Based in a casino environment, the five-reel, 30-payline slot lets players throw the dice in a vibrant world of vivid graphics, craps animations and distinctive sound effects. The large variety of features within the game gives players many opportunities to profit from an enjoyable experience.
Video poker uses regular poker-hand ranks to determine winners. The most basic game is jacks or better. Deuces or jokers are wild in other versions. Whatever the game, the play remains the same;

Basil Nestor is the author of the new Playboy Complete Guide to Casino Gambling. This wonderful book teaches players how to avoid sucker bets and win more when playing gambling games. He is also the author of The Smarter Bet Guide series for video poker, slots, craps, and many other books about gambling. Basil's website is www.smarterbet.com receive five cards, discard and draw, the result is your hand.
The RNG in a video poker machine simulates dealing from a shuffled deck of cards. The likelihood of receiving any particular hand from a real deck is identical to a video poker deck.
The pay table is the most important element of a video poker game. A casino can't tighten or loosen a video poker game by changing how the cards are dealt, so the only way the house can get an edge is to change the pay table. Thus you can simply look at a machine and instantly know the casino's edge.
Some machines pay slightly fewer credits on selected hands. The difference may seem small, but it can dramatically increase the house edge.